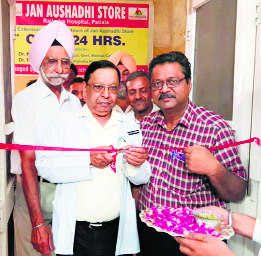 Tribune News Service
Patiala, May 29
Patients at Government Rajindra Hospital, henceforth, will not have to rush to the private shops for medicines at night. Courtesy, the Jan Aushadhi store will, now, operate 24x7.
Following an acute shortage of the medicines, the Government Rajindra Hospital authorities have already decided to start round-the-clock medicine store. The move is said to have been taken following The Tribune's report which had exposed the shortage of even basic medicines at the hospital.
On May 24, a poor patient and a daughter of a farmer who committed suicide, was asked to buy paracetamol and a thermometer in the middle of the night.
A junior resident, on the anonymity, said, "Sometimes, we have to spend money on medicines from our own pocket for the poor patients. We have, time and again, apprised the medical superintendent of the shortage of medicines."
The Medical Superintendent, Rajan Singla, said, different types of generic medicines, including life-saving generic drugs, would be made available in the Kendra, on cheaper rates, for poor patients.
Commenting on the lack of medicines at the hospital, Singla said he had a meeting with Addition Chief Secretary (health) Satish Chandra, this week, over the issue of shortage of medicines. "He has assured us that Essential Drug List (EDL) will be made available at the hospital, soon," said Singla.
Moreover, Principal Medical College, KK Aggarwal, said, "The 24x7 store will be of great help to the poor patients as they were facing inconvenience during the night due to the non-availability of medicines."
It is pertinent to mention, the hospital has already started the 24x7 lab to curb the fleecing of the poor patients in the hands of the private labs.
Top News
Chennai airport operations suspended from 9.40 am to 11 pm
Group of militants on their way to Myanmar ambushed by anoth...
Court of Inquiry ordered to ascertain the cause of accident
This will be the first time in history of Mizoram that the s...
Punjab MP was suspended on August 11