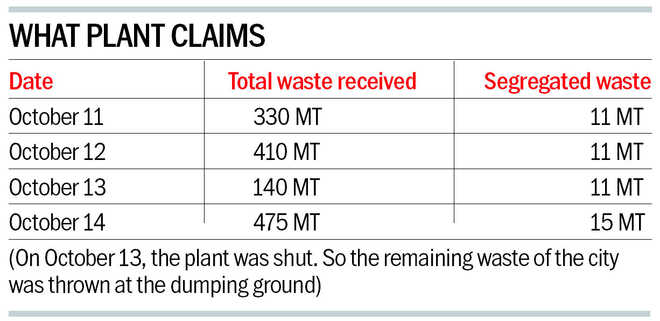 Sandeep Rana
Tribune News Service
Chandigarh, October 15
The Jaypee plant authorities today disputed the MC claim that it was sending segregated waste for processing. The plant authorities said they had been getting only about 10-15 metric tonne (MT) of segregated waste out of over 400 MT garbage given to it per day.
The plant authorities said the segregated waste being provided to them came only from UT villages where the MC had earlier implemented the dry and wet waste project. They were getting mixed waste from sectors where the project was implemented on October 12.
"We are getting only about 10-15 MT segregated waste each day. Dead animals and medical waste are also being sent to us in the mixed waste. This plant is not meant to process such waste. It is against the norms," said NK Vohra, incharge of the Jaypee Group's plant.
A senior MC official said, "We have already started segregating the waste, but the old chunk of mixed waste was not cleared from Sehaj Safai Kendras (where collectors leave waste from households) yet. The plant could be getting that waste."
MC Commissioner KK Yadav said, "The claim of the plant is not true. In fact, the segregated waste which we are providing them is also being mixed at the plant as they have no arrangements for it. The plant already has a huge chunk of unprocessed waste. Yesterday, the plant was not working. It has started working now."
The two parties — the MC and Jaypee plant — are already locked in a legal dispute at the National Green Tribunal (NGT) regarding the waste disposal. In the previous hearing, the NGT had asked the corporation to implement waste segregation.
Top Stories