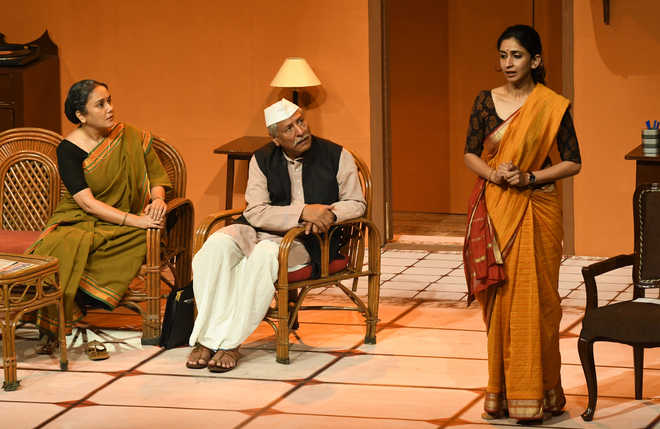 Our Correspondent
Chandigarh, March 21
The English version of the Marathi play, "Kanyadan", written by playwright Vijay Tendulkar, was staged to perfection by the Prime Time Theatre Company Mumbai at Tagore Theatre during the ongoing 8th Theatre Olympics, here on Wednesday.
Designed and directed by Bollywood actor-director Lillete Dubey with the absolute comprehension of the intent of the original Marathi classic, the play brought into focus the age-old dominating Dalit aspects with sociological and political dimension, ailing our culture and society.
Protagonist Jyoti from an affluent upper caste marries a Dalit poet and author, Arun Failing. Having been brought up in a different environment, Arun, at times, turns obstinate and arrogant, much to the annoyance of Jyoti's family.
The play debates the relating issues through brilliant acting spells from Joysen Gupta, Deepika Amin, M Godbole and Bollywood actor Rajinder Gupta, who shined through in the peerless production. The attractive stage sets, both symbolical and functional and lighting were the added feature of the adequately rehearsed play which won standing ovation from the audience.
Top News
The election if required would be held on October 17, a firs...
Chief Minister Yogi Adityanath has expressed deep grief over...
Capable of supporting ultra-high-speed Internet, the fifth g...
As the govt rolls out the revolutionary 5G service, a look a...
India's PM has unequivocally conveyed this (dialogue) in his...