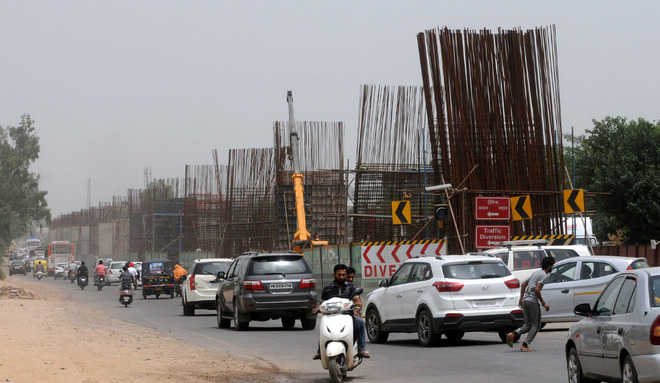 Akash Ghai
Tribune News Service
Mohali, July 5
A total of 607 structures, including houses and shops, in nine villages located along the Balongi-Kharar highway will be bulldozed as the National Highways Authority of India (NHAI) is all set to acquire seven hectares of land to construct service lanes on both sides of the under-construction flyover there.
An official related to the Rs 448-crore project said the NHAI had already acquired 11 hectares of land before the start of the project. "The project now requires seven more hectares, being termed "missing land", to construct the service lanes on both sides of the flyover. After acquisition of the "missing land", the work will be expedited,"the official told Chandigarh Tribune on condition of anonymity.
"The structures to be bulldozed fall on these seven hectares,"the official said.
He said the land in question should have been acquired before the start of the project, for which the deadline is December 2018. L&T, whose services have been hired by the NHAI to complete the project, has sought more time (around 11 months) for the completion of the six-lane flyover, to be constructed on single pillars.
"The completion of the project also depends on the time being taken to complete the process of acquisition of the "missing land"by the NHAI. Earlier, the site and design of the flyover saw changes even after the start of the work on June 9, 2016. The construction work actually started in December last year after the finalisation of the site and design of the project,"said the official.
So far, 30 pillars and 60 foundations of the 4.5 km-long flyover, including its approach, have been completed.
The official said 90 per cent of the land acquisition should take place before the start of any such project and the remaining land should be acquired within five months of the start of the construction work.
In this project, the process of acquiring the "missing land"was yet to start even after over one year of the start of the project. So, the project was expected to be delayed, said the official.
Under the project, the elevated road will start from Balongi, where an underpass will be constructed, and culminate near KFC (also having an underpass). Then again there will be an elevated road from Sunny Enclave to the Khanpur T-point. Except being widened to a six-lane road, there will be no change in the road from the grain market, Sector 39, to Balongi.
Top News
Police release new footage; 'Waris Punjab De' chief spotted ...
The case was filed against Gandhi for his alleged 'how come ...
Can't keep defaming people, democracy and the country and ex...
Lawyer Abhishek Singhvi discusses legal strategy with Rahul ...
In 2017, top court declared practice of instant triple talaq...