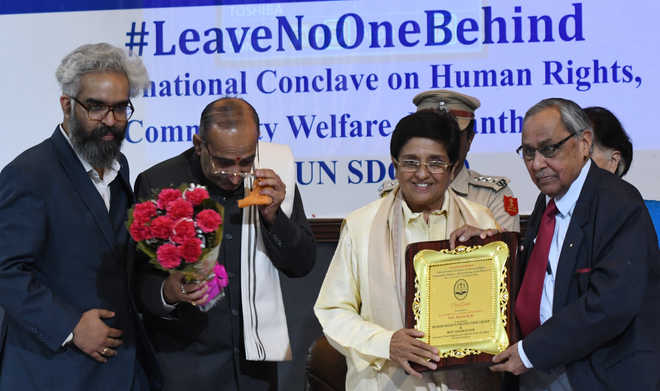 Tribune News Service
Chandigarh, November 11
Stressing the need for demanding community welfare and good governance from the administration, Puducherry Lieutenant Governor Kiran Bedi proposed an independent vigilance department on the lines of the election commission here today.
Bedi was addressing the audience on the first day of the International Conclave of Human Rights, Community Welfare, Philanthropy and UN SDGs 2.0 #leavenoonebehind being held at the Dr Milk Raj Anand English Auditorium in Panjab University.
Bedi said: "Community Welfare is not possible without human rights." She vigilance and delayed justice were the weak links in the chain and thus, the state and central vigilance commission need to be kept independent. The audience gave a standing ovation to the IPS officer's model of grievance redressal implemented in Puducherry.
The organiser of the conclave and founder of the Human Rights Protection Group and MFP federation, Prabhloch Singh, referred to Bedi's Raj Niwas as 'Sewa Niwas'. He explained that any commoner could come in and discuss his grievances and problems with the Lieutenant Governor.
Kharar MLA Kanwar Sandhu spoke about the history of human rights and its various aspects.
Chandigarh MP Kirron Kher flagged off a mobile mortuary and funeral service van from the venue. Prabhloch Singh thanked Kher for providing the van under MPLADS fund.
The day witnessed participants from various countries, including Bangladesh, UK and Ghana among others. The event is being held to mark the 550th birth anniversary of Guru Nanak Dev.