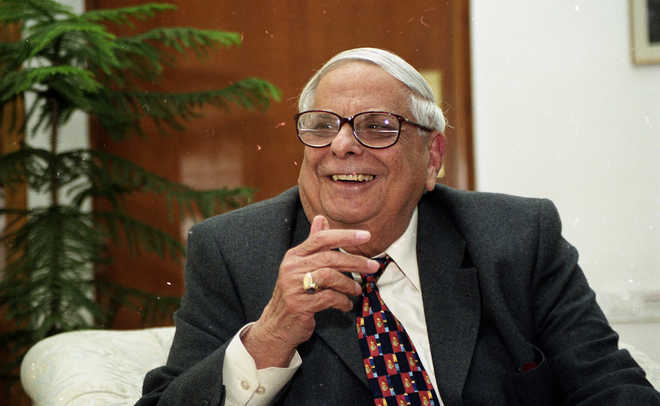 Tribune News Service
New Delhi, January 13
The 1971 war hero, Lt Gen JFR Jacob (retd), who negotiated the surrender of 90,000 Pakistani troops at Dhaka, died of age-related complications here this morning. He was 92.
Jacob as Major General was Chief of Staff at the Eastern Army Command during the 1971 war with Pakistan. Lt Gen JS Aurora was heading the command at Calcutta (now Kolkata).
In Jacob's death, all the key military leaders of the 1971 war have died, ending an era. Lt Gen Aurora; Lt Gen Sagat Singh, who headed the 4 Corps; Lt Gen (later General) TN Raina who headed the 2 Corps, are all dead. The then Army Chief, Field Marshal SHFJ Manekshaw, is also dead. Jacob, a bachelor, was living in Delhi's RK Puram.
His body will be kept in state at Brar Square in Delhi Cantonment for the final wreath-laying at 1 pm before being handed over to Delhi's small Jewish community at the Judah Hyam Synagogue in central Delhi for his final rites.
Army Chief Gen Dalbir Singh Suhag termed Lt Gen Jacob's death a 'great loss', adding that he was a "pillar of military leadership and personified the best qualities of a soldier and a statesman".
Jacob was a former Governor of Punjab and Administrator of Chandigarh between November 1999 and May 2003, where he earned the sobriquet of 'people's Administrator'. He was famous for dropping in unannounced in public offices.
Israeli Ambassador Daniel Carmon said the General was a staunch supporter of India-Israel relations. "He shall forever be remembered as a human bridge between our peoples," he said.
Lt Gen Jacob was born in 1923 at Calcutta. He enlisted in the British Indian Army in 1942 and retired after 37 years of service. He authored two books: Surrender at Dacca: Birth of a Nation and An Odyssey in War and Peace: An Autobiography.
---
Was a man of many parts
Sarbjit Dhaliwal
Tribune News Service
Chandigarh, January 13
Though there was no one to question his authority, he would never violate rules. Fond of fishing at the Bhakra Nangal Dam, he would insist on securing a permit. This is how Shiv Dullar Singh Dhillon, an IAS officer, described the charming persona of former Punjab Governor, Lt Gen JFR Jacob (retd), who passed away in Delhi this morning.
"I was posted as SDM at Anandpur Sahib. He used to take me along for fishing," said Shiv Dullar. "He was one of the finest human beings. He made it a point to locate those who had served with him in the Army. Then he would spend hours with their families. He used to invite soldiers from his regiment at Raj Bhavan."
"There are 100 per cent honest people. But I would say Lt Gen Jacob was 200 per cent honest," said former Punjab Chief Secretary SC Aggarwal. "He was the most knowledgeable person I've ever met," Aggarwal said. "Once, a delegation from Tanzania came to see Jacob. He told them so much about Tanzania that they had to admit that they were not aware of the many things about their own country."
Jacob, who will be remembered as the 'People's Governor', was also fond of collecting artefacts and antiques. He would often visit Patiala and other places to collect such items. In fact, he had turned his own house at Delhi into a museum.
---
Obituary
The quintessential 'Gunner'
Lt Gen JFR Jacob was arguably last of the knights who straddled generations of military history
Lt Gen Bhopinder Singh (Retd)
Son of a Baghdadi Jewish businessman from Kolkata, Jack Farj Rafael Jacob would grow up to be an unlikely Indian war hero and much more! In a fast fading world of classical military 'Generals', Lt Gen Jacob was arguably the last of the knights who straddled generations of military history, which saw him in action in World War II, 1962, 1965 and, of course, peaking in the 1971 Indo-Pak war, an unprecedented military success.
The young impressionable boy was so moved by the stories of the Jewish Holocaust that he defied his family history and chose to join the British Army to take on the Nazi Germans in World War II. Providentially, he was assigned to do just that after commissioning in the Artillery Brigade of the British Army and take on General Rommel's fabled Afrika Korps. However, fate was to deny him that opportunity, as his brigade arrived only after the battle was over and he had to spend the next three years fighting the Japanese, in the Burma Campaign.
A bright officer, he was always destined for higher glories as he went on to graduate from the premier Artillery institutions in the UK and the US. But, the 'Gunner' fired his biggest career guns in the 1971 Indo-Pak war, as he immortalised and distinguished himself in his role as the Chief of Staff, Eastern Command.
While there is no doubt about Lt Gen Jacob's professional conduct, planning and contribution to the success of operations in the annals of the 1971 war history, there is an acrimonious debate as to the real claimant for 'hero-ship' to the success of the decisive 1971 victory — that fundamentally altered the political geography and power equations in the sub-continent. Then Chief of Army Staff General Sam Manekshaw (later Field Marshal) and the Eastern Army Commander, Lt Gen JS Aurora, come in for a bit of a rough assessment by 'Jake' (as Lt Gen Jacob styled himself) in his book Surrender at Dacca: Birth of a Nation. The implied sense was that he himself was responsible for all major policy decisions and that the Eastern Army Commander was said to be busy planning a trip for his wife's travel for the surrender ceremony, while the Army Chief Manekshaw was a 'media star', portrayed as lacking combat experience.
History has many versions and perceptions about the individual contributions to the overall success of war, but what remains unquestionable is the sound strategy and tactically daring conduct of Lt Gen Jacob during the 1971 war and the surrender negotiations. Nearly 90,000 Pakistani soldiers surrendered with only 3,000-odd Indian soldiers in the near vicinity of Dhaka. Perhaps the best left-handed compliment comes from the enemy itself when General Niazi noted in the Hamidur Rehman report, 'General Jacob blackmailed me! He threatened to hand us over to the Bahini, and that they would bayonet us', or when the Pakistan National Defence College concluded, 'The credit really goes to General Jacob's meticulous preparation in the Indian Eastern Command…'
Post-retirement, Lt Gen Jacob did not 'hang his boots' and pursued business interests till his political baptism into the BJP, triggered by the party's natural inclination towards advancing ties with Israel. He rightfully served as the party's security adviser and then went on to assume higher responsibilities as the Governor of Goa and, later, Punjab.
His second innings in public life was marked by exceptional correctness, sobriety and probity that made him stand out as a fine example of constitutional correctness and India's inherent plurality. "I am proud to be a Jew, but am Indian through and through. I was born in India and served her my whole life. This is where I want to die," he wrote.
A patriot and a larger-than-life officer, with an irrepressible zest for life, he would often shoot from the hip and was candid about his opinions, adding to his colourful aura and personality — in him, the military lost a cavalier 'war hero' who epitomised romantic notions of military leadership, and the nation its unique beacon of the lofty idea of 'India'. But then, as they say, soldiers never die, they only fade away. RIP, Sir!
(The writer is former Lt Governor of Andaman and Nicobar Islands & Puducherry)
Top News
No immediate report of any loss of life or property; People ...
Earlier, Amritpal was caught in CCTV footage at a toll plaza...
Police have arrested 154 people so far but Amritpal is still...
Stringent National Security Act has been invoked against Amr...
In his first reaction to the police action, the CM releases ...