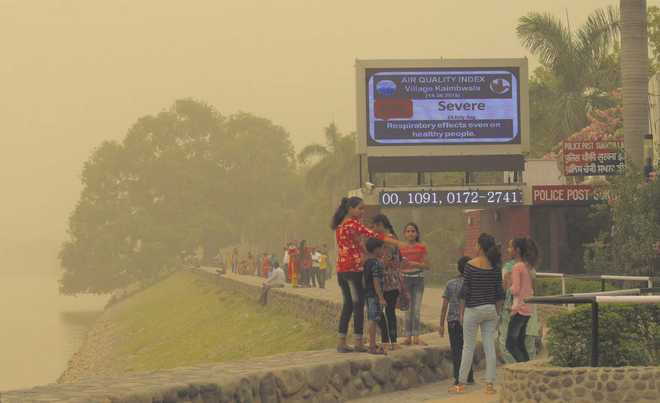 Nitin Jain
May sound strange to say that breathing is harmful, but it is truism in Chandigarh. Popularly called City Beautiful and acclaimed for its green and clean environs, the joint capital of Punjab and Haryana has recorded the highest-ever concentration of PM 2.5, a pollutant so fine that it can directly penetrate into our lungs and then enter the blood system, causing serious health problems.
It was on June 14 and 15 that the UT's lungs got choked with dust and haze which had enveloped the region. The situation turned so bad that the Chandigarh international airport had to be closed for two consecutive days.
While the UT Administration was quick enough to plan a fresh study of Chandigarh's air quality by experts from IIT-Kanpur, who were already on the job for a similar study in Delhi with the support of the Union Government, a recent study has found that the quality of air in Chandigarh deteriorates to dismal levels, especially in the months of winter. The situation is indeed worrisome and needs to be tackled with utmost urgency.
Chandigarh is a land-locked city and does not admit of much scope for expansion. But factors, including turning the green areas into concrete on its periphery, massive construction activities, carpeting of roads, carriage of sand, soil and municipal waste in open trolleys/ trucks, and, last but not the least, the increasing number of vehicles, have made it necessary to find a permanent solution to the increasing air and noise pollution in the tricity region.
Chandigarh has earned the dubious distinction of having the highest per capita vehicle population in the country with an average of about 1 lakh new vehicles hitting the roads every year.
Making the public transport switch from diesel to environment-friendly CNG, impounding vehicles which emanate more than permissible smoke and slapping heavy fines on such pollutants, regulating the construction activity, mostly haphazard and unplanned on the periphery of Chandigarh, acting sternly against the open carriage of sand, soil and waste material and putting a stop to the burning of waste, wild growth and tree leaves in the open are some of the initiatives which can help in making the air in the tricity cleaner.
Also, the task of planting more trees to increase the green area and forest cover should be taken up more aggressively and efficiently. The UT Administration and both state governments keep boasting of launching plantation drives and distributing free saplings worth lakhs, but the ground reality belies such claims. Such plantation drives do not go beyond photo-ops. We all must ensure that each and every sapling planted grows. "Each one, plant one" might have been relevant earlier, but has become necessary now.
Making environment clean and green is a mission which should involve every citizen.
Top News
2 others eject safely | Debris strewn across miles | Sukhoi,...
Visit comes ahead of NSA chief's US tour
Sarpanches of Haryana to hold 'chakka jam' against Amit Shah...