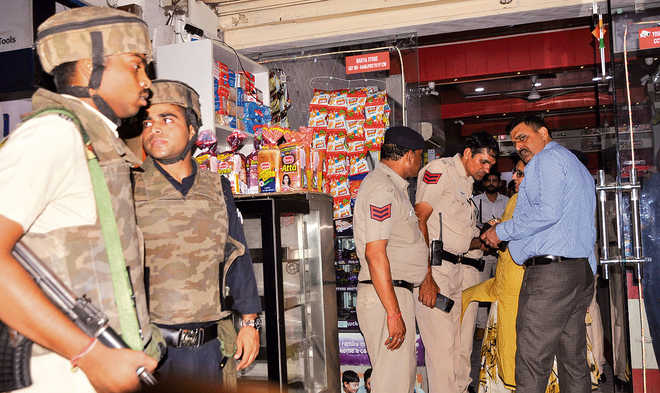 Tribune News Service
Chandigarh, September 21
A 30-year-old man was shot at in full public view outside a shop in Sector 28-C here on Saturday evening.
The victim has been identified as Pappu, who works as a driver at HP Alloy Steels & Mill Store. He hails from Uttar Pradesh and resides with his family at Daria village.
The 30-year-old was roaming outside his shop around 7:30 pm when the suspect came from behind and shot him in the stomach. He sustained serious injuries. He was rushed to the PGI where his condition is stated to be critical. On a complaint of Gaurav, a colleague of the victim, a case under Section 307 (attempt to murder) of the IPC and 25/54/59 of the Arms Act has been registered against Sarvesh, a native of Unnao district in UP putting up near Jagatpura, at the Sector 26 police station. The police said they had dispatched six teams to arrest the suspect.
Gurpreet Singh, the owner of the shop where the victim works, said, "We were all inside the shop when we heard the sound of a gunshot. The onlookers told us that they saw a man running away from the spot."
The victim was rushed to the PGI. The police found a CCTV camera at a shop adjoining HP Alloy Steels which had captured the suspect. He was coming from the rear of the shop while hiding a weapon in his hands. Since a CCTV installed at the alloy store was not working, the incident could not be recorded.
---
'Cops ignored threat to victim'
Shashi, an acquaintance of the victim, said they knew Pappu's life was in danger and had even informed the police about it. "Every time we tried to seek police help, we were turned away saying it was no joke," she said. Shashi alleged that her brother-in-law Sarvesh killed Pappu as the victim was friends with her sister. "My sister's husband had threatened to kill Pappu. For the past one week, we used to go to his shop around 8 pm and escort him to his place. Today, I was on my way to meet Pappu but Sarvesh reached there half an hour earlier and attacked him," she added.