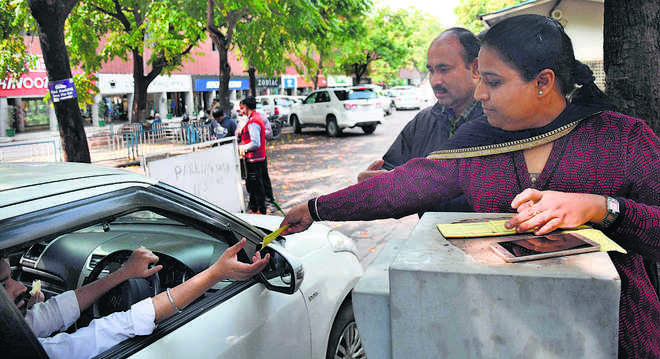 Sandeep Rana
Tribune News Service
Chandigarh, September 15
Whether or not the rates of the 26 paid parking lots, including the Sector 17 multi-level parking, in the city will be increased and whether 64 more lots will be converted into paid ones will be decided at a General House meeting of the the Municipal Corporation tomorrow.
The Congress is set to oppose the agenda. "We are going to fully oppose it. During the elections, MP Kirron Kher said she would not let the parking rates be increased. Now, with what face are they bringing the agenda to the House meeting. The BJP is unnecessarily burdening people with additional taxes," said Leader of the Opposition and senior Congress councillor Devinder Singh Babla.
However, senior BJP councillor and parking committee chairman Arun Sood said, "We are not going to increase the rates, only hourly parking rates will be levied. For the first time, we are going to provide the facility of five-minute free pick and drop at all paid parking lots."
The MP has maintained that she will present her views in the House only. An ex officio member, Kher is expected to join the discussion. Earlier, she was in Delhi for the Parliament session due to which the issue was not taken up in the previous House meeting.
Mayor Rajesh Kalia had formed a committee, headed by former Mayor Arun Sood, to recommend the parking rates and the terms and conditions for the allotment of the parking lots.
At present, Rs 5 and Rs 10 are charged for two-wheelers and four-wheelers, respectively, at the parking lots. Now, there is a proposal to double these. Earlier, Rs 10 and Rs 20 used to be charged for two-wheelers and four-wheelers, respectively, on an hourly basis as the parking lots were with a private company under the smart parking system.
After the firm left, the corporation took over the lots and the rates were halved. However, now it is being planned to hand these over to a private player and enhance the rates.
Besides, new parking lots have been identified in Sector 7, 19, 22, 23, 24, 36 and on Madhya Marg, which may be converted into paid lots by the MC.
Rates likely to remain same for first 4 hours
Sources said it had been decided by BJP councillors, who have a majority in the House, and the MP that the rates for the first four hours would remain the same — Rs 5 and Rs 10 for two-wheelers and four-wheelers, respectively. However, after four hours, these will be doubled. The councillors were of the view that the same prices should be charged in the proposed new paid parking lots.
We are going to fully oppose it. During the elections, MP Kirron Kher said she would not let the parking rates be increased. Now, with what face are they bringing the agenda to the House meeting. The BJP is unnecessarily burdening people with additional taxes. — Devinder Singh Babla, Cong councillor