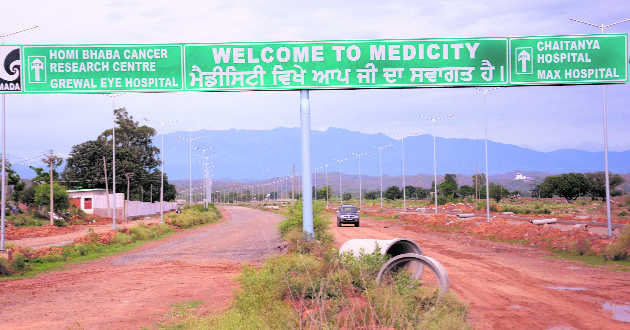 Tribune News Service
Chandigarh, July 12
After Knowledge City in Mohali, which houses country's top national higher educational institutes of repute, the Greater Mohali Area Development Authority's (GMADA) another big ticket project, Medicity, coming up in New Chandigarh, close to the PGIMER in Chandigarh, is all set for launch in October this year.
"All work pertaining to roads, bridges, streetlighting and other civil and allied external development work are at an advanced stage and are expected to be completed before October this year," Additional Chief Secretary, Housing and Urban Development, Vini Mahajan told The Tribune, here today.
Recognising health as a critical human capital component contributing to productivity of economic growth and human development, the Punjab Department of Housing and Urban Development had acquired 258 acres in New Chandigarh for development of healthcare facilities of the highest standards.
Medicity is comprised of 18 multispeciality/superspeciality hospital sites, a medical research institute, an ancillary site, housing facilities for doctors and paramedical staff and a budget inn for attendants. The campus offers two sites for medical colleges-cum-hospitals, a convention centre, laundry, incinerating unit and a dedicated dumping facility, making it a self-contained medical campus.
She said the Chief Minister, Capt Amarinder Singh, intends to seek involvement of the private sector by offering them various incentives with respect to land price, CLU charges and external development charges.
Earlier, the state government had successfully operationalised superspeciality cancer and trauma hospital in Mohali and superspeciality cancer and cardiac hospital in Bathinda with Max Healthcare under the public private partnership (PPP) mode.
At Medicity, 50 acres have been allotted to the Union Department of Atomic Energy for setting up the Homi Bhabha Cancer Hospital and Research Centre, construction of which has already started and is expected to be completed within two years, Mahajan disclosed.
Sites have also been allotted to Chetanya Paediatrics and Gynae Hospital, Grewal Eyes Hospital, Max Multispeciality Hospital for setting up such facilities in Medicity.
Who can apply
A firm, society, trust or limited company owning and managing 100-bedded hospitals are eligible to apply for allotment. For medical college site, state government/Union Territory, including their autonomous bodies or universities or registered societies or charitable trusts, companies are eligible to apply.
Reserve price
The reserve price of land has been fixed after considering acquisition cost and providing services such as sewerage, water supply, electricity, rain storm water disposal. The price of land is Rs 5.5 crore per acre for medical college and Rs 6 crore per acre for hospitals inclusive of EDC and CLU charges. Price of the land is payable in instalments spread over eight years.
Top News
Action after security agencies flag data leak, extortion
Adani row: 3 posers daily, Cong steps up attack
Khalistan issue, extradition of fugitives taken up
Yet, almost one-third didn't vote in 2019 poll