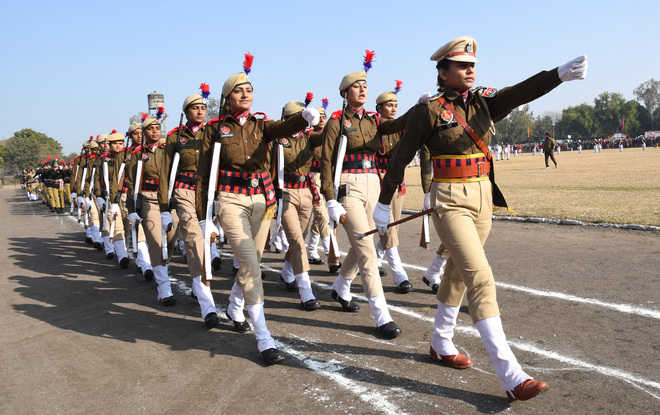 Tribune News Service
Mohali, January 27
With a view to providing quick and timely relief to victims of violence against women, a dedicated 'Sakhi: One-Stop Centre' established within the Civil Hospital at Phase 6 here was dedicated to the public by Razia Sultana, Higher Education and Water Supply & Sanitation Minister, Punjab, yesterday.
The minister was in the town to hoist the Tricolour at the district-level Republic Day function held at Government College at Phase 6, here. Earlier after hoisting the National Flag, the minister also took salute during the march past.
During her address, Razia Sultana touched upon the issue of drug menace in the state. She said the state government was determined to eradicate the menace from Punjab.
"Treatment of more than 60,000 drug addicts was on in the state after the registration of patients. So far, we have established out-patient opioid-assisted treatment clinics in Punjab where special task force has been constituted to tackle drug peddlers," said Razia Sultana.
The minister also claimed that the state government had already waived Rs 4,513.8 crore loan of farmers here. She announced that soon Mohali would have a world-class technical university.
About the 'Sakhi: One Stop Centre', Razia Sultana said the Punjab Government was opening such centres in all districts of the state.
She said this centre would provide all required services to the victims of violence against women. She said it would function 24X7 and a lady constable would be deputed there.
She said in this centre, all kind of emergency medical services would be provided to the victims. Besides immediate police assistance at site, legal support and guidance would also be extended to the victims of violence against women.
The Minister said counselling by trained counsellors would also be provided to the victims. She said at this centre, there would be facility to provide temporary shelter to the victims and their children.
Razia Sultana also distributed cycles among girl students of Class 11 and 12 under the Punjab Government scheme. She said under the scheme, 4,459 girl students would be given free cycles.
Earlier, students of various schools presented cultural programmes. Among other dignitaries, Mohali Deputy Commissioner Gurpreet Kaur Sapra and Senior Superintendent of Police Kuldeep Singh Chahal were also present.
Punjab Speaker Rana KP Singh remembers Ambedkar
Ropar: Punjab Speaker Rana KP Singh unfurled the Tricolour at Nehru Stadium at the district-level Republic Day function held here on Saturday. He took a salute from the march past. Speaking on the occasion, Rana remembered Dr BR Ambedkar who was instrumental in drafting the Constitution of India, which came into force on January 26, 1950. He also recalled the role played by Punjabis in the freedom struggle of the country and contribution in the development of the country. He also honoured freedom fighters and their families as well as various personalities for their outstanding contribution in their respective fields. Students of various schools presented mass PT show and cultural programme. At the Indian Institute of Technology (IIT), Ropar, director Prof SK Das unfurled the National Flag. Republic day was also celebrated at National Fertilisers Limited, Nangal. TNS
Top Stories