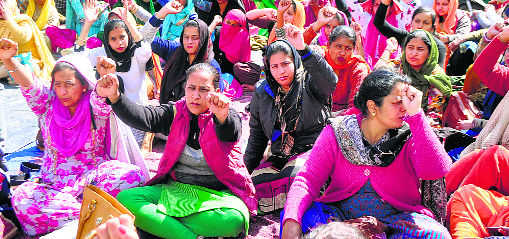 Karam Prakash
Tribune News Service
Patiala, March 1
Health and Family Welfare Minister Brahm Mohindra and former External Affairs Minister Preneet Kaur on Friday faced a strong protest from contractual nurses and Class IV employees when they reached Government Rajindra Hospital to meet the injured nurses.
Brahm and Preneet visited the hospital to meet the two contractual nurses, who jumped from the roof of the hospital on Thursday evening, sustaining serious injuries. The nurses had been protesting for the past 24 days.
Though the protesting nurses raised slogans against them and also blocked them from meeting the injured nurses, a heavy police was deployed for their safe passage.
Sandeep Kaur Barnala, Chairman, Punjab Nursing and Ancillary Staff Union, said, "Brahm Mohindra and Preneet Kaur did not meet the protesting nurses even once. They did not pay any heed to our regular warnings."
Owing to strong protest by the nurses, Brahm held a closed-door meeting with union leaders of the protesting staff. Meanwhile, Sukhpal Singh Khaira, President, Punjab Ekta Party, met the nurses and assured them that he would raise the matter with high officials.
Meanwhile, Brahm, said, "The incident was very unfortunate and could have been avoided as talks were on. We will discuss the issue in the next Cabinet meeting."
Top News
Warns private satellite TV channels of penal action under ap...
93 MLAs vote in favour of motion
The China-bound Mahan Air flight is now out of the Indian ai...
The Indian High Commission is on its toes after the Sikhs fo...
Video goes viral on social media