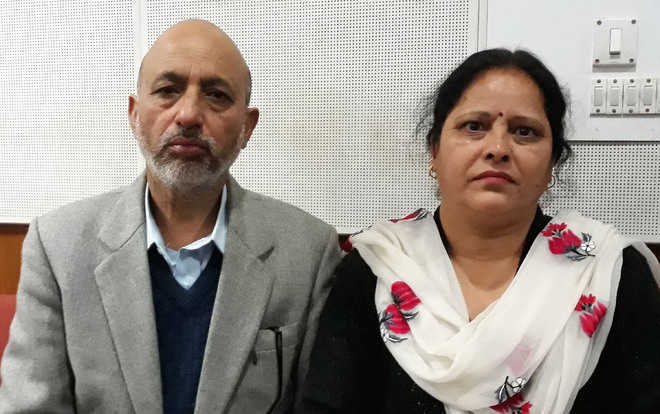 Bhartesh Singh Thakur
Tribune News Service
Chandigarh, January 28
Parents of Capt Nitin Gautam had to wait for four years to get his pension and ex-gratia dues. He was just 25-year-old when he died due to cardiac arrest on September 15, 2012, while leading a Ghatak platoon in Drass Sector of J&K on the line of control (LoC) at a height of 10,670 feet. After his death, fight of his parents, Kameshwar Gautam and mother Suman, who are from Himachal Pradesh (HP), started in court.
Maj Navdeep Singh has compiled similar stories in the second edition of his book 'Maimed by the System' which has real-life accounts of military personnel, veterans and kin who fought and successfully claimed their rights from courts, but after decades and some posthumously. The author is a practicing advocate at the Punjab and Haryana High Court and is a member of the International Society for Military Law and the Law of War at Brussels.
Case of Capt Nitin Gautam
The army declared that since Capt Gautam was on operational duty and died along the LoC "due to illness caused by climatic conditions", his death is attributable to "active military service". But despite that it being declared as "battle casualty", the family was denied liberalised family pension, which has a higher rate, and an ex-gratia lumpsum compensation, as higher ups in military establishment declared that the death didn't take in active military action.
Kameshwar Gautam, who retired as private secretary from HP Horticulture Produce Marketing and Processing Corporation (HPMC), approached Chandigarh-bench of the Armed Forces Tribunal (AFT) in 2013. Even after winning the case, he had to file an executive petition in 2015.
"Only recently in 2016, we got our dues. We have set up a trust in his name and has been funding 3 students," said Kameshwar Gautam. "Atleast the government must spare the families of army personnel," said Suman Gautam. The author comments in the book, "For them, it is not a battle for finances really, but a fight to reclaim memories.
'Use and Throw'
Rakesh Sharma, from Himachal Pradesh (HP), was part of Army Marksmanship Unit (AMU) at Mhow and had trained with Major (later Colonel) Rajyavardhan Singh Rathore. In 2003, as he went out to a local tailor near station officers' mess, he met with an accident with a tractor. He had suffered head injury, multiple fractures and nerve palsy. He also suffered memory loss and his right hand was rendered non-functional. He remained in hospital for one year and was invalided out of the Army. He was refused disability pension after a Court of Inquiry declared that the accident has nothing to be related with military service. Though, he was in hospital and his right hand was not functioning but his signature had appeared in the Court of Inquiry proceedings.
He filed a case before HP High Court which was transferred to AFT, Chandigarh. The tribunal however rejected his claim, which he challenged before the Punjab and Haryana High Court in 2013. He was granted all the dues but despite that Army did not implement the order and a contempt petition was to be filed. Finally, he got his dues in 2017. Maj Navdeep Singh comments, "The long winding legal route was unnecessary if any of the authorities in the chain of command had realised the basic infirmity of the case or woken up to the circumstances of the injury and that it had occurred within the military station and that too when he was not on leave. Nobody even thought that though this soldier was no longer good as a marksman, he could still perform other military duties and it was our duty to go out of the way to adjust him, for he had brought laurels to our nation and the defence services."
'Does anyone care?'
Dilip Saikia and Rita though hailed from Assam but settled in Haryana. Dilip had joined the Army in 1987. In 2010, he got buried as his bunker collapsed in landslide on August 11, 2010.
The area where he was posted was under Op Rakshak. He was the lone bread earner but his wife was denied liberalised family pension and ex-gratia compensation as the incident was described as accidental collapse and not related to military service. The Army took up the issue with pension disbursing authorities but in vain.
Finally, Rita had to approach court and was granted her dues. After that she had to fight Haryana government as they refused to release their share of ex-gratia amount as they said that she belonged to Assam. But her ration card had address of Ambala and the Punjab and Haryana High Court ruled in her favour in May 2017. The author comments that "judgments repeatedly rendered by Courts are not applied to other affected parties based upon principles settled therein and equally and similarly placed individuals are forced to litigate on same issues again and again and again."
Top News
Resolution gets the backing of 13 Council members, while the...
The written answer to unstarred question number 980, uploade...
Punjab Police tell Punjab and Haryana High Court that the in...
Move comes day after Ali walked out of Lok Sabha proceedings...
The tax department has deployed about 40 large and small mac...