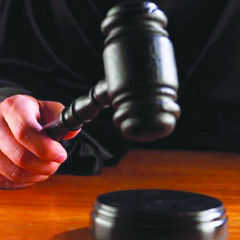 Our Correspondent
Dera Bassi, July 27
The Court of Gaurav Dutta, Judicial Magistrate, First Class, Dera Bassi, ordered registration of an FIR against a mother under Sections 7, 8, 11,12,12 and 14 under the Protection of Children from Sexual Offence Act, 2012 (POCSO).
The complainant Chaitanya Mahendru, a resident of Gill colony, Jalandhar, had alleged that he got married to Jyoti Dogra on November 8, 2015 and its was their second marriage. He said Jyoti gave birth to a male child on August 13, 2016 at Paras Bliss Hospital, Panchkula.
He said during his wife's pregnancy, scan and other tests were done but she never shared any medical record or test report with him. The complainant stated that Jyoti concealed the fact that her habit of drinking and smoking could cause threat to an unborn child.
Mahendru stated that on August 15, 2016 Jyoti wanted to see the baby boy who was under an observation at the hospital. He alleged that his wife (Jyoti) started wondering about the baby's genital organs.
He said after getting discharged from the hospital, Jyoti started living with her parents at Zirakpur. He alleged that his wife recorded an objectionable video, wherein she was fondling with the baby's organs.
He said he was never allowed to meet his child.
Mahendru alleged that he had lodged a written complaint with the police and administration, but to no avail. "I had sought action, but since the police failed to lodge an FIR, I took a legal recourse," he said.
The court observed that acts of minor fondling in a video and that too with such language as described in mischievous manner are against the concept of motherly fondling. Therefore, the offence defined under Section 7 of the (POCSO Act) is clearly spelled out from the complaint.
Going by the petition filed by the complainant, the court directed the Zirakpur SHO Gurcharan Singh to register an FIR against the mother.
The SHO said on the directions of the court, the police have registered an FIR under relevant sections of the POCSO Act against Jyoti.