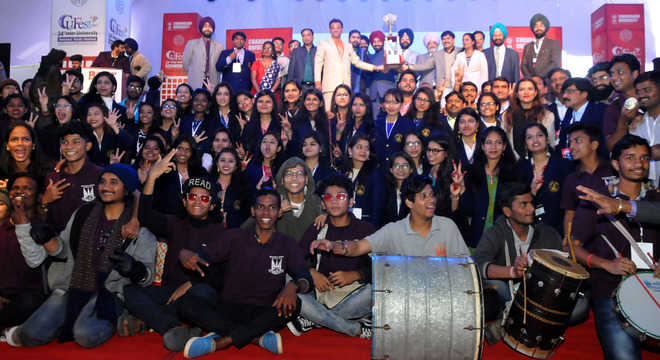 Kharar, February 5
The 34th National Youth Festival concluded at Chandigarh University, Gharuan, here on Tuesday.
The winners of 27 categories of theatre, literary, music, dance and fine arts competitions were honoured. A team from the University of Mumbai and Banasthali Vidyapith, Rajasthan, jointly lifted the overall trophy, while the Chandigarh University (CU) team finished first runner-up, while Guru Nanak Dev University, Amritsar, clinched the second runner-up position.
CU's one-act play, 'Knock it down', featuring the life of Thomas Edison bagged the first position in theatre category, while a team from Kurukshetra University and Manglore University, Karnataka, finished second in the event. The University of Mumbai bagged the first position in skit, western music instrumental, western group song, folk orchestra, classical dance and collage making, while Banasthali Vidhyapeeth, Rajasthan, won the top position in folk dance, folk orchestra, classical instrumental, classical dance and Indian group song. CU won the first position in western group song, Indian group song, mimicry and on-the-spot photography.
CU Chancellor Satnam Singh Sandhu, congratulated the winning teams. — OC
Top News
Congress' state in-charge says the party is tipped to get th...
Launches attack against nepotism and graft; seeks collective...
Says Congress will oppose attempts to put leaders like Gandh...
Chandrashekhar Harbola was part of a 20-member troop that wa...
One attack occurred at a minority habitation in Chadoora in ...