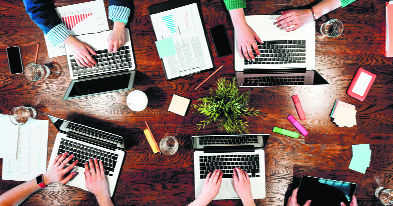 Priya S Tandon
What do you do when you want a swanky office but cannot afford one? What do you do when you need a printer, scanner, coffee-vending machine and don't have enough space for these in your tiny cubicle? What do you do when you need a peon so that you could concentrate on things more important than paying electricity bills, washing coffees mugs, clearing the clutter, paying the garbage guy etc? Well, there seems to have evolved a solution called coworking space. And it's really going places.Coworking seems to be a perfect blend of togetherness as well as independence. It saves on cost and is a great place to network.
My husband Sanjay started his practice after graduating as a chartered accountant from a makeshift office that was nothing but his bachelor's pad; a bedroom of 10ftX10ft converted into an office. While he bought a table and a couple of chairs, he slept on the lobby couch. Later, when he rented his first office in Sector 22, to start with he was suddenly burdened with paying for rent, electricity, telephone, the peon's salary etc. The expenses of course increased by leaps and bounds … Today, when I look at the coworking spaces, I wonder why no one thought of these then? It would have saved Sanjay many a hassle!
Working from home may be more economical, but it does have its downsides like disturbance from the family, the lure of getting laid back and the non-professional ambience in case a client wants to drop in etc. And if you decide to work on your laptop while sitting in bed … Well! God help you! Who knows when you shall slide down and doze off! Zzzzzz!
Sharing is a concept as old as mankind. We have shared teachers, playgrounds, books, clothes, shoes and even food with our siblings and friends; perhaps strangers too.
In the contemporary world, coworking spaces have sprung up like a boon and have all the little facilities you always wanted. You have air conditioning, high-speed Internet, parking facility, cafeteria, tea/ coffee, peons, helpers, courier service, night watchmen etc. And all at the press of a button! Another big advantage seems to be that whenever you need to expand, you can pay for another seat or two, at just a fraction of the cost. One may sometimes even rent a seat for a day or a week … and all facilities are in tow!
Not only are they profitable for those who cannot afford to have independent offices, or start-ups etc., they are a great way to conserve electricity and resources too. They are a great place to meet people from similar or diverse businesses and make friends and create networks. Somewhere deep down, we all have common interests and even problems.
Sitting in a professional environment, is a learning experience for a beginner. Perhaps all that one learns in the first few days of going to an office is how to stay put in a chair for hours on end! One always learns more by observing how others conduct themselves, than by reading about office culture, etiquette etc. And sharing creates bonhomie and bonding!
This reminds me of a song I learnt in school:
"Sharing, if we would all keep sharing,
Sharing, all the things we had.
Oh! What joy, what peace and contentment,
there'd be if we'd keep sharing all we had."
The little things we are taught in school are so profound that I wonder why we forget. Sharing and caring go hand in hand. Well, better late than never!
Top Stories