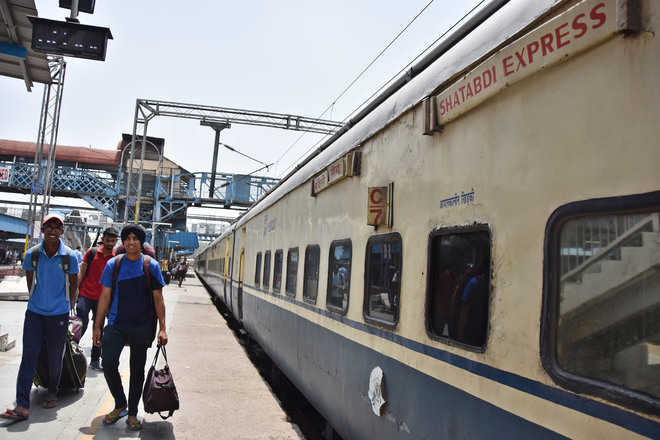 Kuldip Bhatia
Ludhiana, July 1
The elite Shatabdi Express running between New Delhi-Ludhiana-New Delhi (12037/38) and New Delhi-Moga-New Delhi (12043/44) has been put on the guillotine. From the date which is yet to be decided by the Northern Railway authorities (but probably during this month itself), the train would be rechristened as an 'intercity express' and run twice a week as against its five-day run from New Delhi to Ludhiana and two days further up to Moga.
The new railway time table announced by the Northern Railway effective from today makes a mention that 12037/38 New Delhi-Ludhiana-New Delhi Shatabdi Express train would run on two days instead of five days from the date to be decided later. Further, the pair of Shatabdi trains, along with 12043/44 New Delhi-Moga-New Delhi, would be named intercity express.
A proposal has also been made by the Railways to extend the 12037/38 New Delhi-Ludhiana Shatabdi, to be run as intercity express, further to Lohian Khas from the date to be notified later.
Launched with much fanfare (the Union Minister of State for Railways had flagged off the train from Ludhiana in November 2011) some eight years ago, the future of this particular pair of Shatabdi train had always been hanging in the balance. While the Railways branded it as economically unviable due to low occupancy, the frequent travelers have been complaining that the schedule of the train was ill-chosen.
New time table
With new time table of the Railways coming in force from today, the pair of 15209/10 Saharsa-Amritsar-Saharsa Jansewa Express has been renumbered as 14617/18 and 12207/08 Kathgodam-Jammu Tawi-Kathgodam Garib Rath would operate as an Express train from July 14 onwards. The Railways further said the arrival/departure time of several other mail, superfast, express and passenger trains had been changed while some other trains would run at a higher speed. They have advised the passengers that from today onwards, they should check the exact time of arrival and departure of their respective trains in their own interest.
Top Stories