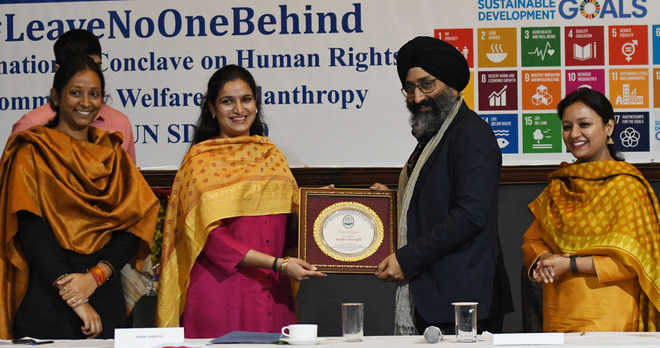 Tribune News Service
Chandigarh, November 12
A Rs 45 crore pan-India project to provide respectable livelihood to the poor titled "BHIJA Kulcha" was launched today on the second day of the #leavenoonebehind International conclave on Human Rights, Community Welfare, Philanthropy and UN SDGs 2.0 being held at the Mulk Raj Anand English auditorium at the Panjab University, Chandigarh.
The project launched by the Human Rights Protection Group and MFP Federation will provide employment to 500 needy families who will also be stakeholders in the company. The 500 families will be recognised via a survey to be conducted by students of Centre for Human Rights and Duties and Centre for Social Work, Panjab University, Chandigarh.
Another highlight of the event was awarding the Human Rights hero award to HS Kathpalia, the chairman of the Jagriti Sewa Trust which is providing free education to 1200 students. The trust runs two primary schools, six evening coaching centres and four computer education and skill development centres.
Founder of Human Rights Protection Group and MFP Federation, Prabhloch Singh said, "HS Kathpalia has been selflessly working for the education of underprivileged children. This award commemorates 30 years of the United Nations convention on the rights of the child".
The day started with a session on gender equality and education panelled by former UNFPA representative for India, Dr Suneeta Mukherjee, founder of Rani Breast Cancer Trust, Bittu Sandhu, former IRS Sudha Sharma and author of 'If the blue lotus sings', Lippi Parida.
The speakers dwelled on the reasons for gender inequality and ways to tackle the same. The panellists called out to men to stand for women's rights as their participation is essential for the same.