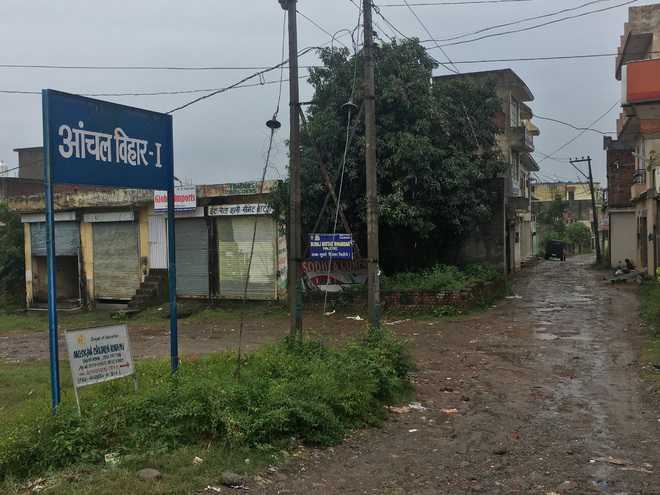 Sanjay Bumbroo
Tribune News Service
Panchkula, September 21
About 50 unauthorised colonies in Kalka and Pinjore, which leaders of the ruling party had announced nearly four years ago that these will be regularised, continue to remain without basic amenities.
The pressure of increasing population resulted in mushrooming of such colonies in the Kalka subdivision and most of these were set up by private colonisers. The developers allegedly did not take approval from the authorities concerned and sold plots to people who wanted to build their dream homes.
The BJP government had decided to regularise 535 irregular colonies in the state under the Haryana Management of Civic Amenities and Infrastructure Municipal Areas (Special Provisions) Act, 2016. The step was taken to ensure basic amenities in these colonies.
The authorities had sent a proposal to regularise 24 colonies in the area last year. Only six of these, which were found to be providing basis amenities as per the Act, had been regularised. The Directorate of Urban Local Bodies had written to the Commissioner, Municipal Corporation, Panchkula, on January 10, 2017, informing that out of 24 colonies proposed by the civic body, only six colonies, namely Radha Krishna Colony, Lohgarh Village, Manakpur Nanak Chand, Krishna Enclave, Isher Nagar, Islam Nagar-1, were found to be fit under the civic amenities and infrastructure law.
Opposition leaders claimed that the colonisers were developing illegal colonies after purchasing land from poor farmers at throwaway prices. They demarcate plots of various sizes and sell these at higher prices. This also resulted in loss to the exchequer as realtors did not get any approval for the same from the authorities concerned, they claimed.
Vijay Bansal, senior vice-president and former chairman of the Haryana Kisan Congress, alleged that due to weak political representation, Kalka had been facing discrimination. He said 18 major colonies were not regularised as these lack basic amenities, such as roads, sewerage and potable water facilities.
These colonies are Sukhomajari, Subhash Nagar, Surajpur, three colonies in Tipra village, Seiuri Colony, Manakpur Thakur Das, Manakpur Devilal village, Kheda village, Kanguwala village, Standing Stone Vasudevpura, Green Veli Colony Part C, Bitna village, Bhogpur village, Basola village, Dhamala village and Aanchal Vihar.
He added that the sword of Damocles dangled over these colonies as the MC or the HSVP could any time demolish the houses built there.
Top Stories