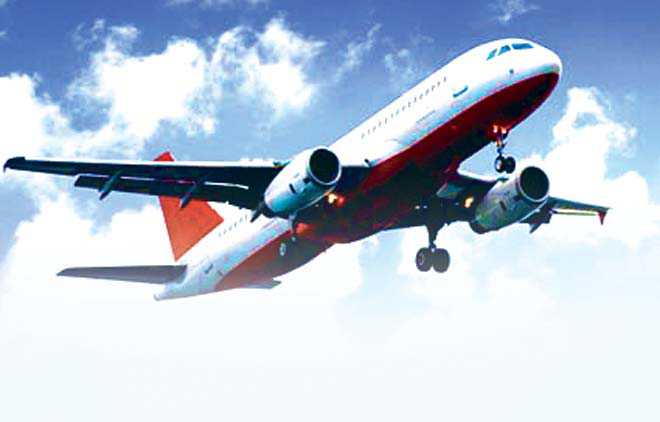 Tribune News Service
Mohali, October 2
The number of flights operating from the Chandigarh international airport will come down from the existing 37 to 27 on account of runway upgrade, which is due to start from October 3.
From October 3, 2017, to March 31, 2018, the runway will remain closed for repairs from 4 pm to 5 am and flights will operate from 5 am to 4 pm, with the first flight departing at 7.35 am. The airport will remain closed on Sundays.
The new schedule will remain in force till October 28, following which the winter flight schedule will be released.
Chandigarh International Airport Limited CEO Suneel Dutt said, "The runway repair work will include re-carpeting and resurfacing of the runway. In order to accommodate wide-bodied aircraft (Boeing 777, 787 and 747), the length of the runway is being extended from the current 9,000 ft to 10,400 ft."
"The runway will have the CAT II instrument landing system that will assist in landing when the visibility is low," he said.
According to sources, the repair is expected to take 20 months with an expected cost of over Rs 460 crore.
With the implementation of new watch hours, several airlines have curtailed their operations. As per the new schedule, Jet Airways will operate seven flights instead of 10. Three Jet Airways flights from Chandigarh to Delhi with departure timings of 6.05 pm, 7.40 pm and 9.35 pm, respectively, have been cancelled. "In the winter schedule, the number of flights may come down to four due to fog," said an official from Jet Airways at the airport.
SpiceJet, which currently operates seven flights, will operate four flights in the new schedule. SpiceJet flights to Jaipur, Hyderabad and Delhi have been cancelled. There is no change in the morning flights to Jammu and Delhi, which will depart at 8.30 am and 8.40 am, respectively. The SpiceJet flight to Srinagar will depart at 12.15 pm instead of 12.35 pm and the flight to Delhi at 4.10 pm has been advanced to 3.35 pm.
IndiGo will operate seven flights with three flights cancelled in the new schedule. The cancelled flights include flights in the evening slots to Srinagar, Mumbai and Bengaluru. There is no change in the timings of IndiGo's international flight to Dubai, which will depart at 3.45 pm.
The sources said more flights were likely to be cancelled or rescheduled in the winter schedule, especially in the morning slots, due to fog and low visibility. The winter schedule is expected to be out by mid-October.
All flights in the graph will operate from Monday to Saturday except the international flight to Sharjah
(on Mon, Thurs, Sat), Air India flight to Leh (Tue, Sat) and IndiGo flight to Delhi (Mon, Wed, Fri).
---
New Air India Kullu-Chd flight
A new Air India flight between Kullu and Chandigarh is all set to be introduced. The inaugural flight will take off from Chandigarh on October 5. "Further details about the flight's schedule will be announced soon," said a source at the airport.
---
No Air India Bangkok flight
RK Negi, local station manager, Air India, confirmed that the Air India Express international flight to Sharjah had been advanced to depart at 3.20 pm instead of the earlier 5.45 pm. However, there would be no international flight to Bangkok till the winter schedule was released. Negi said, "There will be no international flight to Bangkok in the summer schedule. It may be announced in the winter schedule subject to the availability of aircraft." Air India had announced a direct flight to Bangkok from Chandigarh last year, slated to take off from October 6. The flight to Bangkok was earlier supposed to start in April 2017 but was later deferred due to delay in procuring a new aircraft. In the new schedule, Air India's flight to Leh will depart at 9.25 am on Tuesday and Saturday. The Chandigarh to Delhi flight departure time of 12.40 pm remains unchanged. The flight to Mumbai will depart at 3.30 pm instead of 5.45 pm and the flight to Pune will take off at 9.10 pm instead of 10.50 pm.
Top News
Team of Congress central observers, led by Chhattisgarh CM B...
'Observers sent to the hill state were seeking the individua...
BJP MP Kirodi Lal Meena moved for leave to introduce the Bil...
A bench of Justices MR Shah and CT Ravikumar said that only ...
Average of assets per winning candidates in Himachal Pradesh...