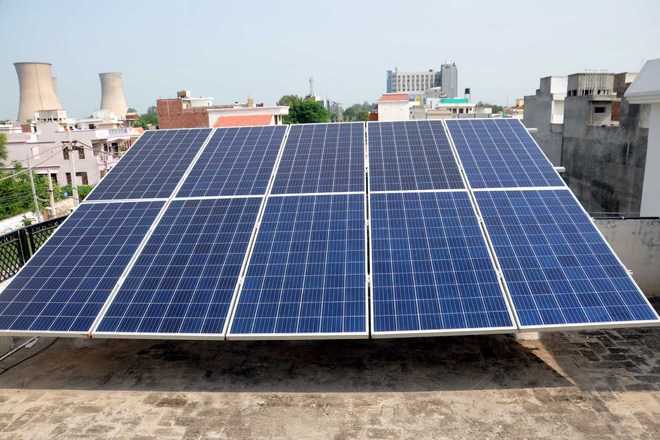 Ramkrishan Upadhyay
Tribune News Service
Chandigarh, July 22
The Chandigarh Renewal Energy, Science and Technology Promotion Society (CREST) has stopped paying subsidy on the installation of solar power plants above 10 kW capacity.
Earlier, 30 per cent subsidy was given to all applicants irrespective of the capacity of the plant, but a recent decision of the Union Government is likely to affect the drive to make Chandigarh a model solar city.
Abdul Qayum, Additional CEO, CREST, claimed the decision would not affect the drive as the number of cases above 10 kW was not big.
While the deadline fixed by the Estate Office for installing solar power plants has been extended up to September 2019, the decision is likely to affect new applicants for the installation of solar plants. The UT Administration, in a notification issued in May 2016, had made the installation of rooftop solar power plants mandatory in properties measuring 500 sq yard and above, and group housing societies. While solar panels were made mandatory for new houses, owners of the existing ones were given two years to comply with the direction. The deadline has been extended thrice. CREST has been made the nodal agency for the project.
The Centre had selected Chandigarh to be developed as a model solar city and set a target of generating 69 MW through solar plants, both in residential and government buildings, by 2022. CREST is already generating 30 MW.
Top News
Teams conducting raids to arrest the BJP leader
Jaishankar meets UN Secretary-General Antonio Guterres and P...
Canada is home to about 770,000 Sikhs - the highest populati...
Canada has alleged that Indian authorities were behind Nijja...