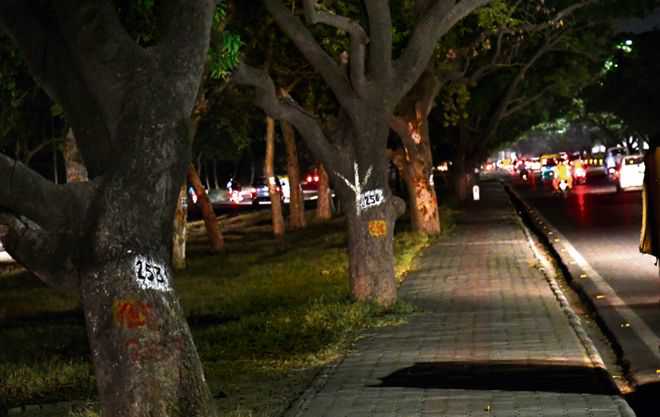 Saurabh Malik
Tribune News Service
Chandigarh, June 3
Less than a month after the move to axe 700 "fully mature" trees for a proposed flyover connecting Zirakpur and Tribune Chowk came under the judicial scanner, the Punjab and Haryana High Court has verbally asked the UT authorities not to lay even a finger on the timber.
The development took place on an application for restraining the respondents from cutting down the trees. The plea was filed after a newspaper report dated May 28 stated that tree felling would commence by June end. It was further reported that an official had clarified that stay on the removal of trees had not been ordered.
Appearing for the petitioner, Run Club, before the Division Bench of Chief Justice Krishna Murari and Justice Arun Palli, senior advocate Puneet Bali stated that stay had, indeed, not been imposed by the High Court on the cutting of trees. But the counsel appearing for the respondent, UT Administration, had given a statement before the Bench that the trees would not be cut by the respondent authorities without taking due permission from the court.
Describing as "startling" the Chandigarh Administration's decision to cut down the trees on either sides of the road leading to Tribune Chowk on Dakshin Marg and Purv Marg, Bali had contended on the petitioner's behalf that irreparable harm would be caused to the environment due to indiscriminate felling.
Submitting that the decision was "highly questionable", Bali had added that the mature mango and other trees were planted in accordance with the "Chandigarh Project Plan" in a planned and thoughtful manner several decades ago.
Emphasising on the utility of the trees, Bali had asserted these were not only helping in increasing the city's green cover, but also in checking pollution caused by heavy traffic on the Dakshin Marg and from the surrounding Industrial Area.
Felling of these trees would cause irreparable harm to the environment as apparently there was no way of replacing and replanting the trees at other locations.
"Development activities usually do have environmental costs. However, this sort of imminent felling of old and mature trees at such a large scale is highly questionable," Bali had added.
Challenge was also mounted to the move on the grounds that it was in violation of the traffic and transportation proposals envisaged in the Chandigarh Master Plan-2031, wherein only an underpass was proposed at Tribune Chowk on Dakshin Marg.
"It is ironical that the Chandigarh Master Plan-2031 was prepared and published with much fanfare by the Chandigarh Administration and the same is being violated now," Bali submitted.
A number of urban communities were moving away from the concept of constructing flyovers to mitigate traffic problems, he added.
Top News
Jaishankar meets UN Secretary-General Antonio Guterres and P...
Canada is home to about 770,000 Sikhs - the highest populati...
Canada has alleged that Indian authorities were behind Nijja...