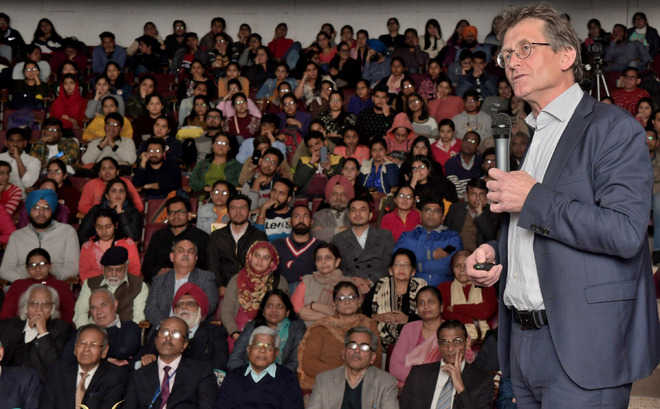 Tribune News Service
Chandigarh, March 13
Dr Bernard L Feringa, who won the Nobel Prize in Chemistry in 2016, delivered a lecture on 'The Joy of Discovery' at the University Institute of Pharmaceutical Sciences, PU, on Wednesday.
Prof Bernard Lucas Feringa, Raman Chair Professor, Indian Academy of Science, University of Groningen, The Netherlands, is a member of the Royal Netherland Academy of Sciences and a member of the Council of the Royal Society of Chemistry. His research interests include stereochemistry, organic synthesis, molecular switches and self-assembly nanosystems.
He said he drew inspiration from Wright Brothers and his chemistry teacher inspired him to take up the subject. He talked about his humble beginnings to how he became the first person in his village to have studied in a university on a government scholarship.
In his talk, Dr Feringa shared a myriad of research areas and appreciated the Mother Nature for the amazing science and biological machinery in our body. He talked about the the significance of molecular motors (ATPase enzyme in the body) which work for the production of energy molecule (ATP) in the body. He said: "My team is working on designing a therapeutic drug which will give a response with light flash (an optical on and off command) and help in precise delivery of the drug in the body to combat resistance and fight the tumour."
He urged the young scientists to discover their talent. His mantra for success is: "follow your dreams", "be confident", "discover your energy", "discover your limits".