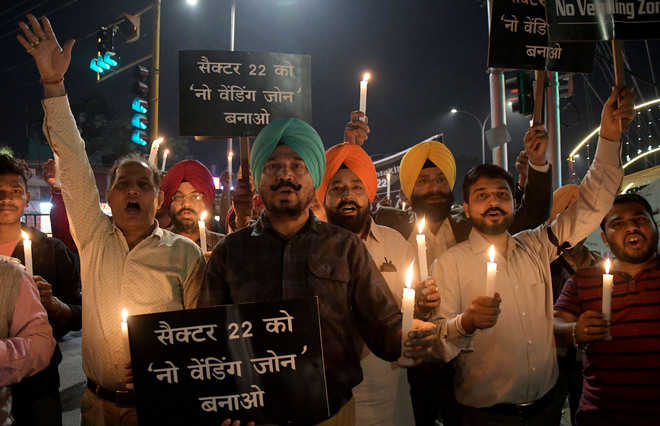 Tribune News Service
Chandigarh, November 14
Following in the footsteps of their counterparts in Sector 17, traders in Sector 22 have started an agitation against vendors.
Demanding that Sector 22 be declared a no-vending zone, traders held a candlelight march this evening. More than 200 traders assembled in the market in support of the demand.
Ashwini Kumar, a trader of Shastri Market, condemned the attitude of the Municipal Corporation (MC) for its failure to remove unauthorised vendors from the market.
He said the civic body turned a blind eye towards squatters, who were growing in number day by day.
Paramjit Singh Tungal, another trader, asked the authority to wake up and take action against those who were illegally occupying every inch of available space, obstructing the free movement of shoppers. He said the Sector 22 market was the heritage market of the city but lost its sanctity to vendors. He said vendors did not even spare the parking area.
The traders demanded that vendors should be shifted so that the market regained its lost glory.