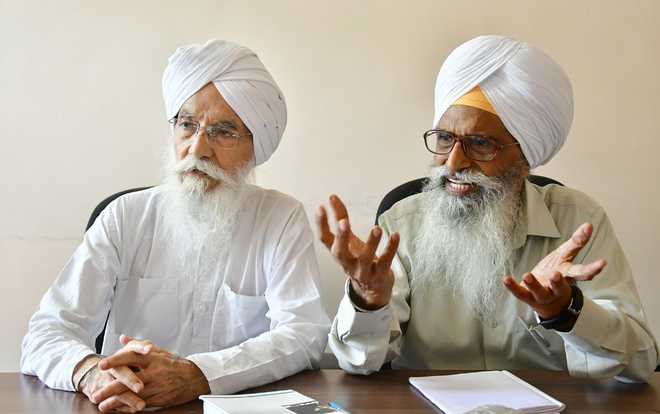 Tribune News Service
Chandigarh, June 26
These two octogenarians have launched a crusade against widespread epidemic of drug addiction. In the past 15 years, they have helped nearly 25,000 drug addicts.
Talking to mediapersons on International Day Against Drug Abuse, social activists Dr Rajinder Singh, MD, Psychiatry, retired from the Army in 1991, and Dr Sahib Singh Advani, an IITian from Mumbai, who was a successful management consultant and worked for several global firms, both 85 years old, said they had been fighting against drug addiction for the past nearly two decades in Punjab, Himachal Pradesh and Chandigarh.
Dr Rajinder Singh said soon after retirement, he started seeing OPD patients with his wife at Gurdwara Teg Bahadur in Sector 34. Today, the OPD provides services to about 150 patients daily.
"In 2004, I started my second voluntary service with Kalgidhar Trust and established Akal Drug De-Addiction Centre at Cheema village in Sangrur district. In 2016, we started second drug de-addiction centre at Sirmaur. At present, we are managing three centres and seeing more than 500 patients a month," he said.
"Till now, we have helped nearly 25,000 drug addicts. This includes IPD and OPD patients. I try my best to support the addicts and their families who are in distress, especially because they cannot afford treatment at expensive centres," said Dr Rajinder Singh.
In 2008, Dr Advani moved to Chandigarh to join Kalgidhar Trust as a volunteer. On meeting Dr Rajinder, he felt inspired by his hard work and great dedication towards serving drug addicts and their families. Dr Advani offered his voluntary service to Dr Rajinder for helping him manage the operations of his de-addiction centres.
"I feel inspired and motivated to see Dr Rajinder Singh moving from pillar to post for helping and treating drug addicts with so much love and compassion. This is what keeps me going with him. Together, we have taken many workshops, seminars and motivated the youngsters in schools and colleges to be aware of the harmful effects of drug addiction. We go to deep pockets of rural Punjab and Himachal Pradesh and pull out drug addicts from their distressed state. We admit them to our centre, treat them with medicines, spiritual therapy, family therapy and lot of love," he said.
"Today, drug abuse is no more a problem only of male. We see many female patients on a daily basis. Moreover, the age group that is most affected is 20-30 years," shared Dr Rajinder Singh.
Dr Rajinder said the youngest patient they had treated was a 14-year-old boy, who was addicted to inhalants, including correction fluid. He was successfully treated and now, he was living a normal life, he said.
A drug addict needs to stay at a drug de-addiction centre from one month to two months depending upon the condition of the addict. He said nearly 40 per cent of the addicts were alcoholic and other 40 per cent were hooked to synthetic drugs, whereas the remaining 20 per cent were addicted to cannabis and nicotine.
Top Stories