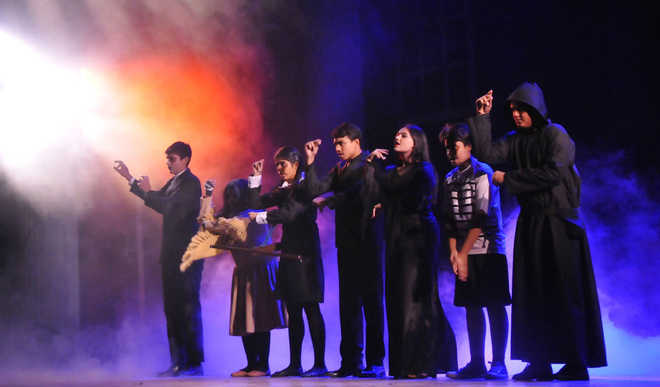 Tribune News Service
Chandigarh, November 12
Students of Vivek High School, Mohali, presented a play, 'The Addams family', on their Founder's Day on their premises in Sector 38, Chandigarh, here on Sunday.
With a scintillating performance, 119 students bought to life 'The Addams family' , a fictional household created by American cartoonist Charles Addams, first aired on television in 1964 and featured as a Broadway musical.
Directed by Sukhmani Kohli, the play brings the humorous reversal of the ideal twentieth century American family, an eccentric wealthy aristocratic clan who delights in gruesome and are carefree of people finding them bizarre and frightening.
The story revolves around one fateful, hilarious night in which secrets are disclosed, relationships are tested, and 'change' is bought to the lives of the Addams family, something they managed to avoid for generations.
The characters include a child-like dad, Gomez, remarkably played by Aachman Gandhi, while vampish mother Morticia was played by Shareen Gill. Their children, frighteningly sadistic daughter Wednesday was played by Aaditaa Vashisht and Pugsley was played by Jaskaran Singh. Uncle Fester was played by Tarandeep Singh while Grandmother was played by Jashndeep Kaur and their butler Church was played by Jaskaran Pramar.
Apt lights, costumes, and elaborated set design further strengthened the versatility of the play.
Speaking on the occasion, Nilu Sarin, vice-principal, Vivek High School, Mohali, said: "Vivek High School stands for overall development of every child. Holistic development goes far beyond just classroom teaching. Through such plays our teachers and students are working together to reach that goal through team work, integration, dramatization, singing, dancing, etc. Students absorb values such as leadership and team work through such activities."
Top News
The minister inaugurates Chief Judicial Magistrate court, Ma...
'I am Rahul Gandhi, not Rahul Savarkar,' he said when asked ...
Former Union Minister Ravi Shankar Prasad says stay on convi...
The plea is filed by a Kerala-based social activist
Amritpal has been on the run since March 18