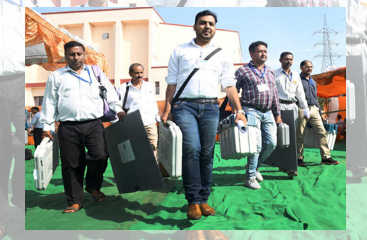 Tribune News Service
Panchkula, October 20
The fate of as many as 14 candidates vying for the Panchkula Assembly seat, including Gian Chand Gupta of the BJP and Chander Mohan of the Congress, will be locked in EVMs tomorrow. Latika Sharma of the BJP and Pardeep Chaudhary of the Congress are among 10 candidates in the fray for the Kalka seat.
In the Panchkula Assembly constituency, the incumbent MLA, Gian Chand Gupta, is locked in a direct contest with Haryana ex-Chief Minister Bhajan Lal's elder son Chander Mohan, a former Deputy Chief Minister fighting on the Congress ticket.
While Gupta is seeking another term on the basis of development works done by him in the past five years, Chander looks forward to reviving his political career as he has represented the Kalka constituency four times. In Kalka, the main contest seems to be between Latika Sharma and Pardeep Chaudhary. During campaigning, which ended at 5 pm on Saturday, the BJP had focused on national issues, including abrogation of Article 370 and its criticism by the top leadership of the Congress. BJP nominee Gian Chand Gupta, however, didn't forget to mention development works of Rs 2,000 crore throughout his
campaign. BJP leaders also took potshots at Chander Mohan over the Fiza episode.
Uttar Pradesh Chief Minister Yogi Adityanath, Himachal Pradesh Chief Minister Jai Ram Thakur and BJP working president JP Nadda visited Panchkula district to support BJP candidates. Chander Mohan, on the other hand, invoked his father and former Chief Minister Bhajan Lal's legacy to woo voters. He even made references to his father's dream to turn Panchkula into Paris. He also accused the BJP candidate of neglecting the constituency during the past five years by comparing it with his tenure as Kalka MLA.
Haryana Congress president Kumari Selja and former Union Minister Pawan Kumar Bansal were among the prominent political figures who campaigned for the Congress candidate in Panchkula.
Top Stories