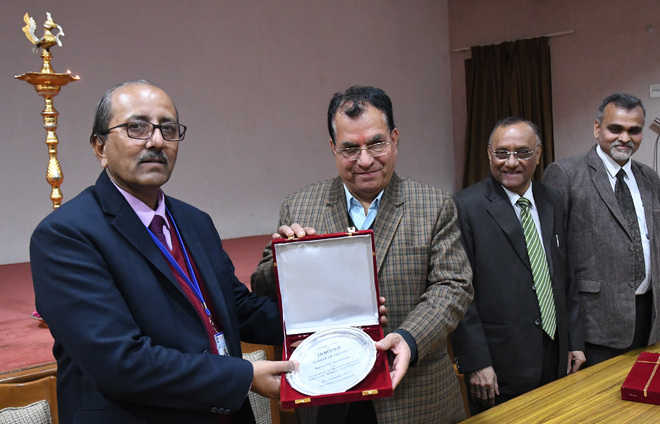 Tribune News Service
Chandigarh, January 25
The PGI Director, Prof Jagat Ram, was today chosen for the Padma Shri in Medicine (Ophthalmology) on the eve of Republic Day.
"It is a big honour for me, my family, Chandigarh and the PGI. My journey started from a village school. I have been serving in the PGI for over 39 years," he said Director.
The Padma Shri is awarded for distinguished service in any field. The award is conferred by the President at a function which is held at the Rashtrapati Bhavan usually around March/April every year.
Prof Jagat Ram, an eye surgeon, who was born at a small village in Himachal Pradesh, comes from a humble background. He became the Director of the PGI in 2017. He is a member of the Board of Governors of the MCI since October 2018.
Prof Jagat Ram joined the PGI faculty in 1985 and rose to become a Professor of Ophthalmology. He received his MBBS degree from Indira Gandhi Medical College, Shimla, in 1978 followed by MS in Ophthalmology from the PGI in June 1982. He was subsequently awarded the WHO Fellowship in the field of advanced phacoemulsification at Storm Eye Institute, USA, in 1993-1994. He was awarded another Fellowship in Paediatric Cataract Surgery in 1998 by the same institute.
Prof Jagat Ram was deputed by the Government of India as a Consultant Ophthalmologist with the Republic of Seychelles from 2003 to 2005, a period during which he eliminated backlog of cataract blindness in this island nation.
Prof Jagat Ram introduced the technique of phacoemulsification at the PGI in 1994 replacing the older technique of extracapsular cataract surgery. Year after year, he operated upon blind patients and restored vision in them and in the past 39 years, nearly 90,000 such patients have been benefited by his surgical skills. In addition, he regularly offered free services as an eye surgeon in over 135 relief and screening camps organised for neglected and extremely poor individuals.
He is a recipient of the "Best of the Best Winner" for a new surgical technique on management of double crystalline lens at the American Society Cataract and Refractive
Society held at San Francisco, USA, in April 2013. At this televised award ceremony, the National Anthem of India was played. In a rare honour again on May 9, 2016, he received the "Best of the Best Award" at New Orleans, USA, at a conference of the American Society. Prof Jagat Ram also received one of the most prestigious awards, the Oscar of Paediatric Ophthalmology, at the World Congress of Paediatric Ophthalmology and Strabismus held at Barcelona in 2015.
---
A Big Honour
It is a big honour for me, my family, Chandigarh and the PGI. My journey started from a village school. I have been serving in the PGI for over 39 years.—Prof Jagat Ram, PGI Director
Top News
According to Rushdie's agent Andrew Wylie, nerves in his arm...
Natwar was Minister of State for External Affairs when Rushd...
All the four employees were dismissed from service under Art...
State government issues notification, move expected to save ...
The exam was postponed for 11,000 candidates to accommodate ...