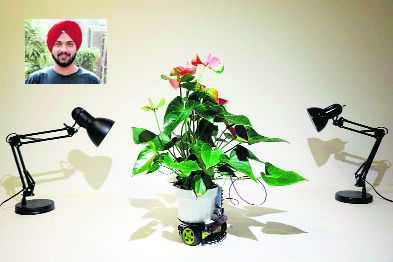 Karam Prakash
Tribune News Service
Patiala, November 30
A Patiala-born US-based scientist Harpreet Singh Sareen has created a plant-robot hybrid 'Elowan', which operates on natural signals of the plant.
He had earlier developed Oasis Terrarium project for Google. 'Elowan' is a cybernetic life form — a plant in the direct dialogue with a machine. Using its own internal electrical signals, the plant is interfaced with a robotic extension that drives it towards the light.
In 'Elowan', silver electrodes are attached to the plant that (electrodes) read and amplify the natural signals of the plant. The plant robot shows the movements according to its own bio-electrochemical signals.
Harpreet, said, "'Elowan' is an attempt to demonstrate what augmentation of nature could mean. Interfacing plants with machines or circuits this way can pave a way to power our future electronics naturally. Such hybrids can impart their best properties to what artificial world hasn't been able to realise."
After completing engineering from Punjabi University, Patiala, Harpreet went to the US for higher studies.
Harpreet, while talking to The Tribune from New York, said, "I started with my research at MIT Media Lab in Boston, where I used to study nature and plants together as a graduate. It was at this place where I crystallised my vision of making technology and electronics integrates with our natural world, seamlessly."
Currently, working as an assistant professor at Parsons School of Design in New York, Harpreet wants to start his own lab to carry out more experiments.
SP Singh, Harpreet's father, said, "My son has made the country proud. He is a very hard-working boy."