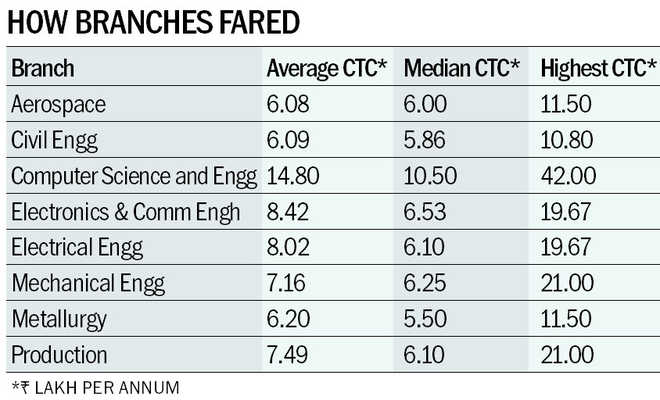 Naina Mishra
Tribune News Service
Chandigarh, June 26
Punjab Engineering College (PEC), Chandigarh, has set a new record in domestic recruitment as the highest package touched Rs 42 lakh per annum in 2018-19.
The highest package of the outgoing batch was recorded in computer science and engineering (CSE) branch. In the last three years, the highest CTC has jumped from 27 lakh per annum (LPA) to 42 LPA. In 2017-18, the highest package was Rs 34 LPA, while in 2016-17, it was Rs 27 LPA.
Dr Divya Bansal, head of the Career Development and Guidance Centre, PEC, said, "Of the total 492 students, 453 were found eligible for placements with percentile more than 6.0. She said 99 per cent students were either joining top universities or B-schools for pursuing higher studies right after BTech or had taken up jobs in PSUs or had secured better opportunities off campus.
As many as 35 students have decided to join higher studies and around 45 students are awaiting results from top universities.
Bansal said, "This is for the first time that students got themselves enrolled for higher studies in well-renowned universities. Generally, students wait for two years of industry experience before enrolling for higher studies. Our students are getting admissions in top international universities such as the Illinois Institute of Technology and top Indian institute like the IIT-Kanpur. A civil engineering student is joining the University of California, Berkeley."
This year, a total of 180 companies visited the campus, while last year, about 136 companies visited PEC.
About 60 per cent of computer science students have got the annual package of above Rs 10 lakh, while more than 20 per cent students have got above Rs 20 LPA package. The average salaries of computer science students have also gone up to Rs 14.80 LPA and the median salary is Rs 10.50 LPA.
More than 25 per cent students in both electronics and communication and electrical have got the annual package of above Rs 10 lakh.
The highest CTC in mechanical and production engineering has increased from Rs 15 LPA in 2017-18 to Rs 21 LPA in 2018-19.
In CSE branch, 12 of the total 18 students have got the highest internship stipend of Rs 31,000 per month and median stipend of Rs 25,000 per month. In information security, 10 of the total 15 students have got the highest internship stipend of Rs 35,000 per month and median stipends of Rs 32,000 per month.
Top Stories