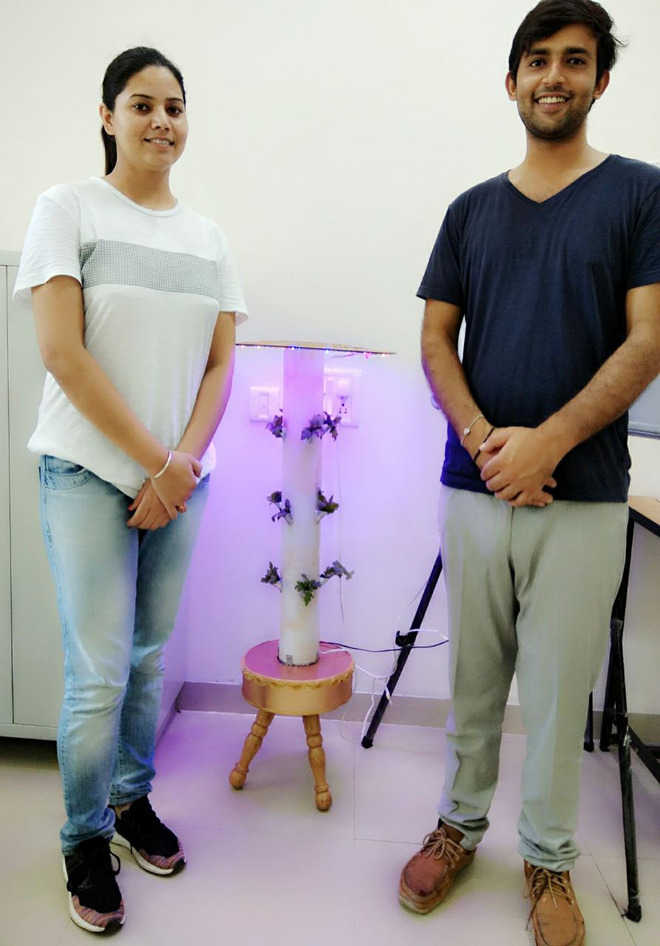 Tribune News Service
Chandigarh, August 28
Freiden Electric, a start-up at the PEC University of Technology, Chandigarh, has won Rs 10 lakh in prize money at an international competition held by the Chile government.
The firm works in aeroponics, the science of growing plants without the use of soil. Plant roots are given nutrients by being suspended in mist. Crops grows faster this way than the conventional farming techniques and use much lesser water and nutrient input.
The firm, established by the PEC students, has developed machines which grow fruits and vegetables organically indoors.
"The patent must be in the name of NASA who grows plants at international space station through aeroponics but their machines are quite expensive. We have developed a cheaper model," said co-founder of Freiden Electric Satinder Sandhu.
"Our system consumes 80 per cent less water as compared to the traditional farming and absolutely zero insecticides or pesticides," said Jasmeet Randhawa (24), co-founder of Frieden Electric.
As a 'Start-up Chile' participant, they will be a part of a groundbreaking entrepreneurial experience and meet other like-minded entrepreneurs from all over the world. The participants will receive a grant of $15,000 and one-year Chile residency visa along with an access to a co-working space in Santiago. Last year, they won the first prize at IGNITE, a startup competition organised by PEC's Entrepreneurship and Incubation Cell.
"It is only because of the guidance, funding, mentoring and the start-up work culture here at PEC that we were able to go from one failure to another, without loss of enthusiasm, until finally hitting upon what we wanted to achieve," said Sandhu.
"We believe that we can use this technology to benefit Indian farmers as most of them are in deep debt due to inefficient farming practices currently prevailing int eh country," he added.
Top News
Opposition parties seek Railway Minister Vaishnaw's resignat...
187 bodies yet to be identified; number of injured put at 1,...
Former chief justice of Gauhati High Court Ajai Lamba to hea...
Former J-K Governor Satya Pal Malik, RLD Chief Jayant Chaudh...
The bridge was said to have involved an estimated cost of Rs...