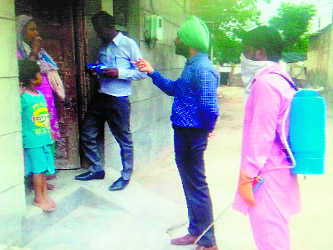 Karam Prakash
Tribune News Service
Patiala, July 23
With the arrival of monsoon season, the possibility of the cases of vector-borne disease have increased. However, the Health Department claims to have taken all possible measures to curb the spread, but the department feels that people of city can play a vital role in curbing the spread of such diseases. In fact, the department is seeking an active participation from the city dwellers.
Health experts say most of the dengue cases breed in accumulation of water inside houses. Dengue larvae takes seven to 10 days to become an adult, thus, if one refrains from stagnate water, the disease can be controlled. However, this year, not a single case of dengue has been reported in the district so far.
Dr Gurmanjeet, a senior epidemiologist, said: "During our regular inspections to control the spread, we found that in most of the cases, breeding points were on the premises of the houses, especially on rooftops. So people should realise their responsibility. They should not let water accumulate in their houses."
In this season, during their Friday-Dry-Day campaign, the Health Department and Municipal Corporation have issued 62 challans where mosquito larvae breeding were found. Under this campaign, the Health Department also sprays larvicides to control spread.
Last year, various preventive measures were taken by the Health Department, but yet they were unable to curtail the spread. In 2017, Patiala was on the second spot in the state with 2,434 positive cases of dengue. Health Experts say, a female andes mosquito can lay as many as 150 eggs in a small cap of a bottle, therefore, people should take extra care in monsoon season. Civil Surgeon Harish Malhotra said no case of dengue was reported from the district so far.
He said people must look for those containers which can hold water. Such containers should be cleaned every week. By marinating cleanliness, larva breeding can be stopped. He said everything was under control in the district but, if precautions were not taken the problem could get aggravated.
High-risk areas in city
Anand Nagar
Babul Singh
Adarsh Nagar
Guru Nanak Nagar
Mathura Colony
Rose Colony
Sanjay Colony
Govt Medical College
Raghu Majra
PRTC Workshop
Dos and dont's
Do not expose skin. Wear pants and full sleeve shirts.
Use mosquito repellent with at least 10 per cent concentration of diethyltoluamide (DEET), but avoid using DEET on kids.
Avoid scents. Scented soaps and perfumes may attract mosquitos.
Avoid being outside at dawn and dusk
Top News
2 others eject safely | Debris strewn across miles | Sukhoi,...
Visit comes ahead of NSA chief's US tour
Sarpanches of Haryana to hold 'chakka jam' against Amit Shah...