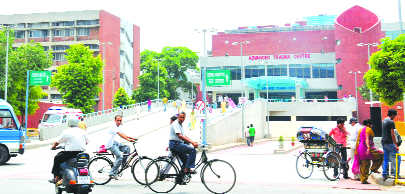 Satya Prakash
Tribune News Service
New Delhi, July 24
The Supreme Court today directed setting up of a medical board to examine a 10-year-old rape survivor from Chandigarh to decide if it was safe to terminate her 26-week-old unwanted pregnancy.
A Bench comprising Chief Justice JS Khehar issued a notice to the Centre and the other authorities on a plea for permission to terminate the pregnancy filed by the minor, who was allegedly raped by her uncle.
It asked the Chandigarh Legal Services Authority Member Secretary to assist it as amicus curiae and get the rape survivor examined by a board of doctors on July 26 at the PGI, Chandigarh. The Bench said the medical board would have to ascertain that if allowed to abort the foetus, what could be the possible risk to the minor's life. It has asked the Member Secretary to ensure that the rape survivor and one of her parents were provided proper transportation facility for her medical examination.
Directing the filing of the medical report in a sealed cover, the Bench fixed July 28 for further hearing.
Under the Medical Termination of Pregnancy Act, a woman is not permitted to abort her foetus after the pregnancy crosses 20 weeks, unless the mother's life is at risk. It's for this reason that often pregnant women move the top court for permission to terminate the pregnancy that has crossed 20 weeks.
Earlier, a Chandigarh district court had on July 18 refused to let the girl undergo the abortion after it was confirmed that she was 26-week pregnant. Advocate Alakh Alok Srivastava, who filed the petition, requested the top court to lay down appropriate guidelines to set up a permanent medical board in each district of India for expedient termination of pregnancies in exceptional cases involving child rape survivors under the best possible medical facilities.
"Medical experts have categorically opined that if the 10-year-old rape survivor is forced to give birth through normal delivery or C-section, it may be fatal to the life of the girl as well her child," the petition read.
It wanted a direction to the Centre to amend Section 3 of the Medical Termination of Pregnancy Act, 1971, so as to permit termination of pregnancies of more than 20 weeks, particularly involving child rape survivors after obtaining requisite opinion from a permanently constituted medical board.
Top News
Hundreds are still believed to be trapped under rubble, and ...
Chances of Parliament taking up a discussion on Motion of Th...
A Muslim man alleged he was assaulted and abused in the name...
Frank Hoogerbeets describes himself one having 'utmost respe...
Will be produced before the competent court in Mohali on Tue...