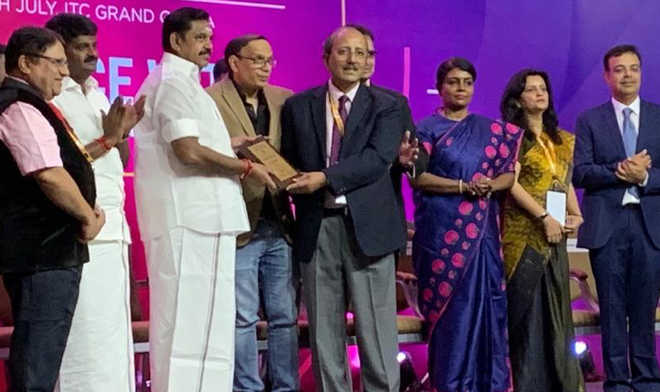 Tribune News Service
Chandigarh, July 6
PGI Director Dr Jagat Ram was today honoured by Tamil Nadu Chief Minister Edappadi K Palaniswami for his significant contribution to Indian ophthalmology in the field of adult and paediatric cataract surgery.
He was honoured during the Indian Intraocular Implant and Refractive Surgery Convention being held in Chennai. The conference is being attended by over 2,500 ophthalmologists from India and abroad.
Prof Ram, who was bestowed upon the Padma Shri by the President this year, is already a recipient of the Most Prestigious Award Best of the Best Winner for New Surgical Techniques on Management of Double Crystalline Lens at American Society Cataract and Refractive Society held at San Francisco, the US, in April 2013.
On May 9, 2016, he had received the Best of the Best Award at New Orleans, the US, at the American Society conference. Prof Ram also received one of the most prestigious awards, the Oscar of Paediatric Ophthalmology at the World Congress of Paediatric Ophthalmology and Strabismus held at Barcelona in 2015.
Top News
According to Rushdie's agent Andrew Wylie, nerves in his arm...
Natwar was Minister of State for External Affairs when Rushd...
All the four employees were dismissed from service under Art...
The exam was postponed for 11,000 candidates to accommodate ...
Had submitted resignation in Jan 2019 and floated his own po...