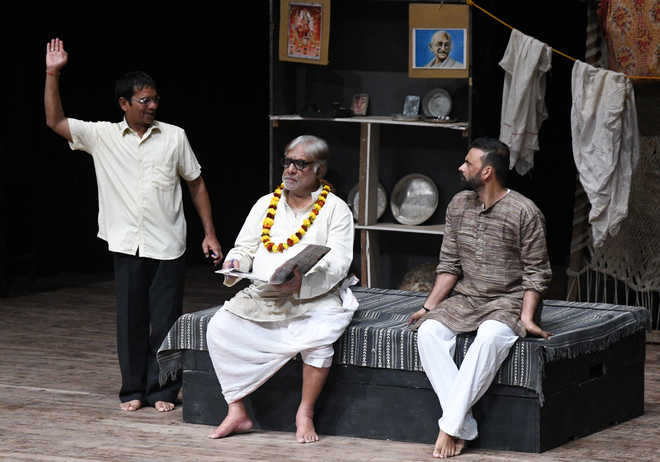 SD Sharma
Chandigarh, March 17
Veteran Bollywood actors Sulbha Arya, Aanjjan Srivastav and Avtaar Gill, who have been members of the Indian People's Theatre Association (IPTA), Mumbai, staged a socially relevant Hindi play, 'Kashamkash', at Tagore Theatre here on Sunday.
The play was organised by the Department of UT Cultural Affairs and the Tagore Theatre Society.
Translated from a Bengali play by Devashish Majumdar, the play flourished under the direction of Ramesh Talwar to bring into focus the burning issues of political hypocrisy, unemployment, exploitation of the gullible masses by the leaders with criminal background. Ethical ideals and wisdom delineated through realistic portrayals.
The play revolved around the life and ideology of an honest and hardworking, but poor book-binder Twashampati , who happens to approach a political leader — hails from the same village as Twashampati — for help. However, Twashampati realises that the leader has cheated on his conscience and ideals.
All actors excelled in the play. The stage sets, music and chiaroscuro effects were applaudable.
Chief guest Jitendra Yadav (IAS) lauded the IPTA as an ideologically-committed drama institution and honoured the artistes.
Top News
Ministry of Electronics and IT issued orders to block apps f...
Lived in self-imposed exile in the UAE to avoid criminal cha...
After his failed misadventure in Kargil, Musharraf deposed t...
Congress leader Jairam Ramesh says starting Sunday party wil...
Says banks and insurance companies are 'not overexposed' to ...