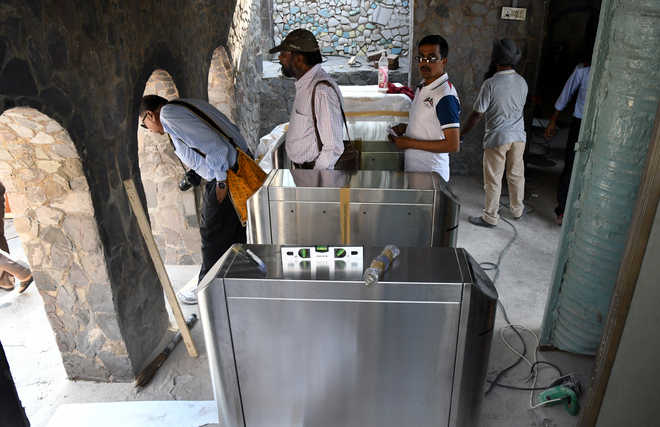 Ramkrishan Upadhyay
Tribune News Service
Chandigarh, October 8
Tourists and regular visitors to Sukhna Lake and Rock Garden are not happy these days. The pride of the city, these two tourists spots are facing neglect from the authorities concerned.
Visitors are not even getting basic facilities such as drinking water. While a majority of the taps at Sukhna Lake are running dry, water can be seen overflowing from broken taps at Rock Garden. Narinder Sharma, a tourist who came from Himachal Pradesh, said he was searching for water for his children at Sukhna Lake, but found the taps running dry. He was forced to buy a bottle of water from a shop to quench his children's thirst.
He said he was surprised to see that tourists were not being provided even drinking water at the lake, which attracted thousands of people every day. Mukesh Bassi, a former councillor and regular visitor to the lake, said the condition of the toilets was also not good. The situation is same at Rock Garden, where broken taps welcome visitors. Water can be seen overflowing from taps. The visitors face other problems as well at Rock Garden. The stinking water of a pond has made it difficult for tourists to stand near the waterfall. Neeraj, a tourist from Bihar, said it seemed the pond was not cleaned for months.
Mukesh Anand, Special Secretary-cum-Chief Engineer, was not available for comments.
---
e-tickets at Rock Garden soon
For hundreds of tourists visiting Rock Garden every day, the entry is now going to be quicker. The society for the maintenance and development of Rock Garden, Sector 1, Chandigarh, has started installing machines for card-based entry and exit. A UT officer said there was a huge footfall at Rock Garden every day. Managing the rush of visitors and distributing tickets manually were challenging tasks and consumed a lot of time. He said e-ticketing would overcome this problem.
Top News
The election if required would be held on October 17, a firs...
Chief Minister Yogi Adityanath has expressed deep grief over...
Capable of supporting ultra-high-speed Internet, the fifth g...
As the govt rolls out the revolutionary 5G service, a look a...
India's PM has unequivocally conveyed this (dialogue) in his...