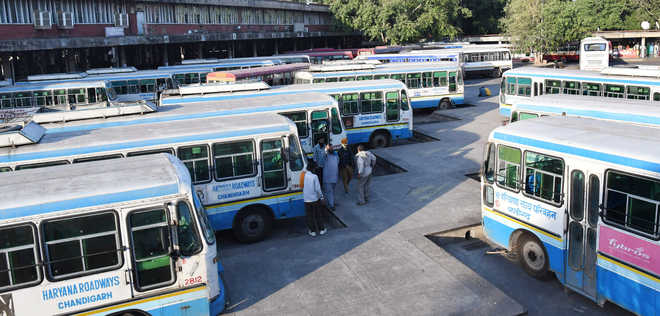 Tribune News Service
Panchkula, October 24
Coming to the support of the protesting Haryana Roadways employees, whose strike entered the ninth day today, the teaching and non-teaching employees have decided to go on leave en masse on October 26.
This was decided at a joint meeting of the teaching and non-teaching staff associations of the Education Department in Panchkula district. The meeting was held in the office of the Sarv Karamchari Sangh and presided over by Jaipal Dahiya.
Members of the Haryana School Lecturers Association, State Elementary Teachers Union, Haryana School Teachers Union, Haryana Education Ministerial Staff Association, Part-time Sanitation Workers Union, Edusat Chowkidar Union and the Mid-day Meal Workers Union were present at the meeting.
Dahiya said the roadways employees were not protesting for an increase in their salary, but were "trying to save the government transport so that unemployed youth in the state could get jobs".
He said instead of resolving the issue, the state government was adamant on privatising the transport services. He said it had also been decided that the teaching and non-teaching employees of the Education Department would participate in the indefinite fast being organised by the roadways employees at the district headquarters tomorrow.
Dahiya said the teaching and non-teaching employees would go on leave en masse on October 26 and issue a warning to the state government to accept the employees' demands.
Satish Sethi, state auditor, Sarv Karamchari Sangh, Rampal Malik, district president, Vijay Pal, cashier, and Randhir Singh, organising secretary, were among those present at the meeting.
Nearly 35 buses of the Haryana Roadways left for various destinations from the Chandigarh bus terminal under police protection.
The employees were protesting against the hiring of 720 buses from private operators under the kilometre scheme. Led by Bhagirath Kathaith, members of the district unit of the Haryana Karamchari Sangh participated in the strike of the roadways staff for the third day.
Meanwhile, commuters continued to face harassment. Auto-rickshaw drivers reportedly charged double the amount from students and office-goers. Taxi operators could be seen charging Rs 5,500 against Rs 3,500 for a one-way trip from Chandigarh to Indira Gandhi International Airport in New Delhi.