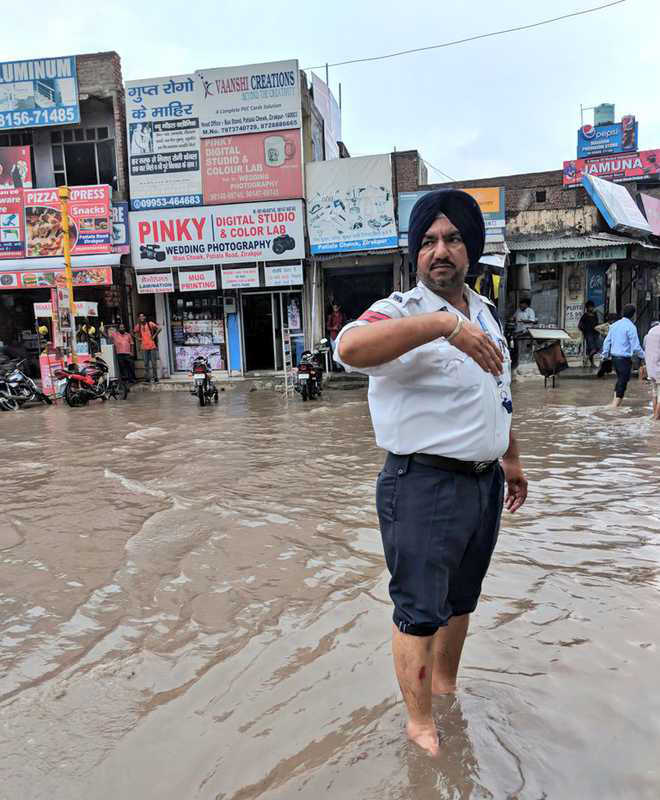 Rajiv Bhatia
Tribune News Service
Chandigarh, July 19
For Head Constables Gurdhian Singh and Gurdev Singh their effort to clear out traffic in knee-deep waters would have largely gone unnoticed on a rainy Saturday afternoon.
But the social media ensured the effort just didn't go waste.
And thanks to the social media, their effort was not only noticed by the entire city, but Punjab Chief Minister Capt Amarinder Singh as well.
It was actor-turned-politician Gul Panag who first tweeted photos of Gurdhian Singh regulating traffic in knee-deep waters on the Patiala road tagging the chief minister's Twitter handle as well.
She sought his intervention and it came instantly that too on the social media itself.
Dear @capt_amarinder Sir,
hard working traffic policemen like this gentleman, would be immensely helped by good rain gear and a pat on the back.
This is under the Zirakpur flyover, Patiala Road. pic.twitter.com/9IYqhtVNtP

— Gul Panag (@GulPanag) July 18, 2018
The chief minister directed the ADGP to honour both the policemen deployed in Zirakpur area. They were on Thursday given Rs 1,000 each and certificates as a token of appreciation.
Heavy rain on Wednesday had inundated the tricity roads. With traffic lights acting up at various stretches, including the Panchkula chowk, McDonald's chowk, Patiala road, Singhpura chowk and Airport Chowk, cops could be seen wading through flooded roads to clear traffic jams.
Gul Panag, who just happened to cross the Patiala road, saw one of the cops, HC Gurdhian Singh, regulating traffic in knee-deep water under the Zirakpur flyover. She took to Twitter, saying the cop should be rewarded.
The two policemen extended gratitude to Gul Panag, saying though it was part of their duty, the appreciation had come in as a pleasant surprise. They also thanked the chief minister.
Thank you @GulPanag for highlighting dedication to duty shown by HC Gurdhian Singh No 381 & HC Gurdev Singh 396 of SAS Nagar. They will be honoured tomorrow by ADGP Traffic with a Commendation Certificate & cash reward. Appreciate positive feedback from citizens! https://t.co/CTri3tu5YL

— Capt.Amarinder Singh (@capt_amarinder) July 18, 2018
Disclosing this initiative, a spokesperson of the Punjab Police said that traffic police employees would be selected on the basis of feedback received from the citizens and will be honoured as the 'police personnel of the week/month'.
To bring attention to such police personnel, citizens could tweet, send emails, post comments on Punjab Police social media platforms or could even send messages on Whatsapp to the officers concerned with photographs.
He added that the selected traffic personnel would be rewarded with commendation certificates/cash rewards by the ADGP/Traffic based on the feedback. The certificate would be titled "You make the difference," he informed.
Top Stories