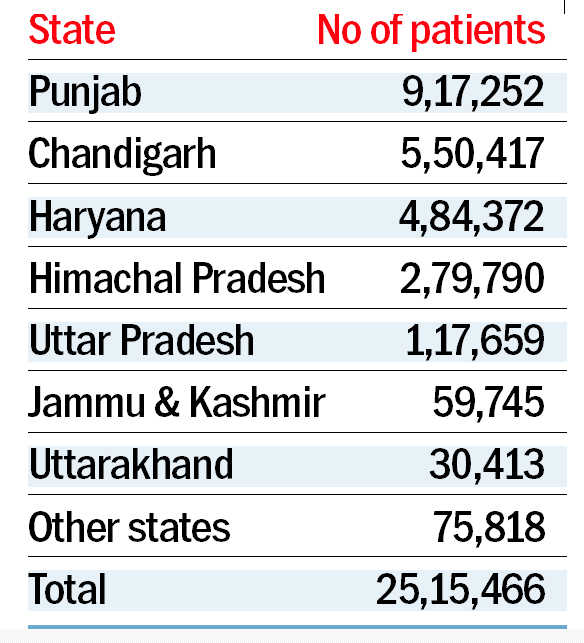 Mohit Khanna
Tribune News Service
Chandigarh, June 28
Boasting of high-class medical facility, Punjab topped the chart with over 9 lakh patients heading to the Post Graduate Institute Medical Education and Research (PGIMER) for treatment in past one year.
Residents of Chandigarh also preferred the PGI over other medical institute of the city as over 5.5 lakh patients underwent treatment here. Haryana too opted for affordable health care at the PGI as nearly 5 lakh patients got treated here.
According to the PGI officials, a total of 25, 15,455 patients arrived at the outpatient department (OPD) of the PGI in the financial year of 2016 – 2017.
The matter of rising number of patients from Punjab, Chandigarh, Haryana and neighbouring states was discussed at a meeting with Union Secretary of Health CK Mishra yesterday.
During the meeting, the finance committee moved a proposal to establish the OPD, trauma centre and cancer institute at Sarangpur to tackle the increasing number of patient footfall. Expected Rs 2,800 crore will be spent of these projects.
The seven floor OPD is expected to cater 35 lakh patients annually, while trauma care will have 500 beds and 20 operation theatres.
Similarly, the cancer institute will be equipped to perform 350 radio therapies in a day and 4,500 cancer surgeries in a year.
CK Mishra had yesterday said that the committee has put forth the proposal of the project. He added that the proposal was at a formative stage.
Surprisingly, many patients have preferred to visit PGI for minor ailments, including fever and common cold.
President of the faculty association of the PGIMER Dr TD Yadav said, "It shows that the medical institutions in the periphery, including district hospitals and other medical colleges, are not doing their job properly. Otherwise, there is no reason that such a huge number of patients will opt to visit the PGI."
He said private hospitals are also very choosy. "They refer the critical cases to us," said Yadav. He said faith in the PGI doctors also has a significant role in the increasing number of patients.
"However, medical colleges of the respective states should pitch in and lessen the patient load on PGI," said Yadav.
Top News
Says poor largest segment in country, deserve first right on...
30 locations linked to news portal, journalists searched; di...