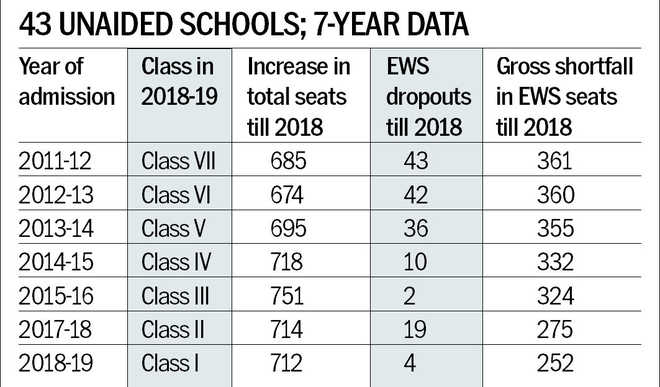 Naina Mishra
Tribune News Service
Chandigarh, June 18
According to an official data, there has been a trend among private schools of increasing around 10-16 seats for the general category in every batch, but the seats for the underprivileged students (EWS category) remain the same.
Resultantly, when economically weaker section (EWS) children, admitted at entry-level classes under the Right to Education (RTE) Act, reach middle and higher classes, their share gets divided.
In an alarming statistics inferred by the Chandigarh Commission for Protection of Child Rights (CCPCR), it was found that around 700 seats have been increasing on an average in every batch for private schools since 2011-2012. However, there was no increase in the EWS seats, thereby, resulting in the gross shortfall of approximately 300 overall EWS seats per batch.
According to the EWS enrolment data of 43 private schools, a total of 1,820 students were admitted at entry-level for the 2011-12 session of which, 308 EWS students were admitted under the 25 per cent reservation. The schools had failed to fill 147 EWS seats. In the same batch, 43 EWS students dropped out — a further decrease of vacant EWS seats to 265. By the time this 2011-12 batch reached Class VII (in the previous year), there was an increase in total seats — from 1,820 seats to 2,505 seats. As per the mandatory 25 per cent reservation, the required EWS seats in 2018 should have been 626 as against 2,505 total seats. However, the vacant EWS seats remained fixed at 265 only.
Similarly, in the subsequent batch (2012-13), around 356 EWS students were admitted against 1,847 total seats. By the time students reached Class VI last year, 42 students had dropped out and there was an increase in total seats by 850. Only 314 EWS seats were found reserved for the session as against a requisite of 674 seats (25 per cent of total seats). This resulted in a gross shortfall of 360 EWS seats.
Right to Education (RTE) consultant Chanchal Singh explains: "Private schools, by increasing the seats in classes higher to the entry level, are avoiding the number of EWS intake mandatory under the RTE Act. Private schools are intentionally keeping the EWS seats on the lower side at entry level so that they can admit less number of EWS students. This way, Section 12 (1) (C) is not being implemented in true spirit. Seats at the entry level should remain same in higher classes as well."
Top Stories