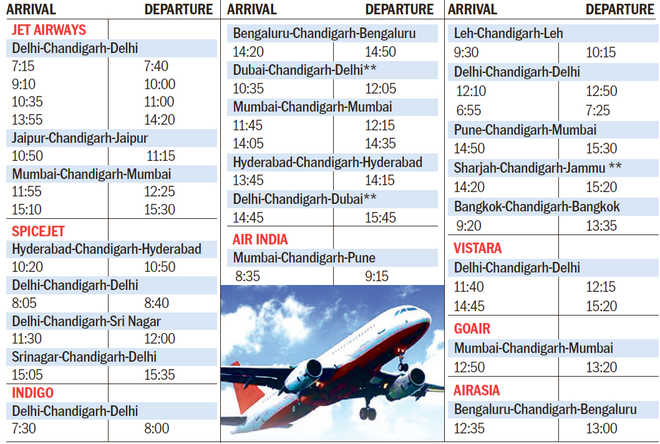 Tribune News Service
Mohali, November 28
Chandigarh International Airport Limited (CHIAL) today released its revised winter flight schedule that will be implemented from December 3 to February 17, 2018.
According to the new schedule, 29 flights will operate from the airport. The first flight will arrive at the airport at 6.55 am from Delhi while the last flight will depart from Chandigarh at 3.30 pm. Air India, Jet Airways and IndiGo will operate seven flights each from the airport. There is no change in the flight operations of Vistara, AirAsia and SpiceJet. The Delhi-Chandigarh-Delhi GoAir flight has been cancelled and GoAir will operate one flight to Mumbai, which has been postponed to an afternoon slot.
In the new schedule, Air India has cancelled the flight to Kullu, which was started on October 13. An official from Air India said the flight to Kullu would not operate in the revised schedule due to fog and inclement weather conditions. The official said, "Another Air India flight to Delhi, which was started on October 30 and is the first flight to arrive at the airport, will be discontinued from December 15."
The major addition to the schedule is the Air India international flight to Bangkok, which will operate thrice a week on Monday, Wednesday and Friday. There is no change in the flight schedule of the two other international flights to Dubai and Sharjah.
CHIAL PRO Deepesh Joshi said the schedule for Jet Airways was yet to be confirmed. He said, "The final schedule for Jet Airways will be revised after December 7." However, sources said the Jet Airways flight to Delhi, which departs from Chandigarh at 7.40 am, was likely to be cancelled. Flight operations in winter are likely to be hit with many flights expected to be delayed due to fog and low visibility. The runway repair at the airport has already reduced the watch hours, with the airport remaining open for flights from 5 am to 4 pm from October 3 to March 31, 2018. There are no flight operations on Sunday.
Top News
Says poor largest segment in country, deserve first right on...
30 locations linked to news portal, journalists searched; di...