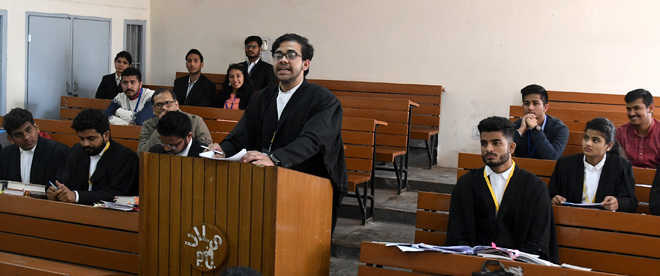 Chandigarh: The Drug De-addiction Society of the Government College of Commerce and Business Administration, Sector 50, Chandigarh, in collaboration with the Consumer Voice, Delhi, observed annual Road Safety Week. This event represents an opportunity to call attention to the road safety situation. About 1.3 million people die each year on the roads worldwide and between 20-50 million sustain non-fatal injuries. Surinder Verma, chairman, Citizens Awareness Group, accentuated that road accidents were epidemic that the government could no longer afford to ignore. Hemant Upadhyay, Advisor, IT and Telecom, gave a presentation and stressed on issues such as road design, driving skills, traffic management, vehicle design, policing, enforcement etc. It was observed that there is a dire need to form strong and comprehensive road safety legislation immediately.
National law fest
Chandigarh: Students of the University Institute of Legal Studies (UILS) put in their sincere efforts as they entered the second day of their fourth national academic law fest "Arguendo - 2018. Budding lawyers contested in the quarter-final and semi-final rounds of the fourth All-India Gurcharan Singh Tulsi Criminal Law Annual Moot Court competition, 2018. Simultaneously, the preliminary and the quarter-final rounds of the seventh UILS National Client Counseling competition, 2018, were also held. Teams from Symbiosis Law School, Noida; School of Excellence, Chennai; Nirma University, Ahmedabad; and PES Modern Law College, Pune; entered the semi-final bout of the All-India Gurcharan Singh Tulsi Criminal Law Annual Moot Court competition. Additional Sessions Judges at the District and Sessions Court, Chandigarh, such as Justice JS Sidhu, Justice Ajit Atri, Justice Ashwani Kumar Mehta and Justice Harish Anand adjudged the semi-final rounds and interacted with students. A total of 24 teams participated in the UILS National Client Counseling competition. TNS
Top News
As soon as the House meets for the day, Congress members wea...
Opposition members attend a meeting called by Rajya Sabha Le...
Says the amount of compensation has been enhanced by 25 per ...
A Bench led by CJI DY Chandrachud on Monday agrees to hear F...
The police have invoked the NSA against him