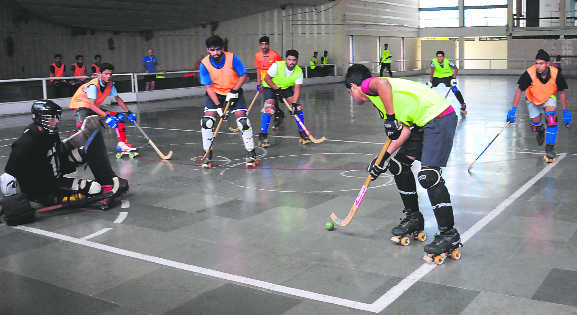 Deepankar Sharda
Tribune News Service
Chandigarh, July 22
The Roller Skating Federation of India is planning an IPL-like league to popularise the sport in the country.
"We will be introducing a league on the basis of IPL, kabaddi and wrestling to make the sport popular (in India). The blue print is ready and we are in discussions with our counterparts," said Tulsi Aggarwal, the newly-appointed president of the sports body.
Aggarwal, who was in Chandigarh to interact with the members of the Indian junior squad, said the federation was in the process of bringing the necessary reforms to improve the sport at the grass roots.
"We have already revamped our entire structure. To hear the grievances of our players, we are introducing a feedback portal on our website. Besides, we are also inviting international support to help turn our players into professionals," said Aggarwal.
The Indian roller skating team is attending a training camp in Chandigarh ahead of their visit to China for the World Roller Games.
On improving the standards of coaches and introducing more tournaments, Aggarwal said: "From this year onwards each state unit will organise at least seven championships in a calendar year."
"We have asked our technical team to stress in improving the quality of coaching. Coaching the coaches is a very important aspect in improving the sport. We will organise exposure seminars for coaches to improve their standards," said Agarwal.
The federation has also announced to host the National Roller Hockey Championship and Speed Championship in Kurukshetra and Gurgaon, respectively, from December 18.
On the players bearing their own expenses, the head of the federation said the things would "definitely" change from this year.
"We will be trying to revamp things. We are fully dedicated to put no pressure on players and we will surely come up with financial assistance for player with the help of sponsors," Agarwal concluded.