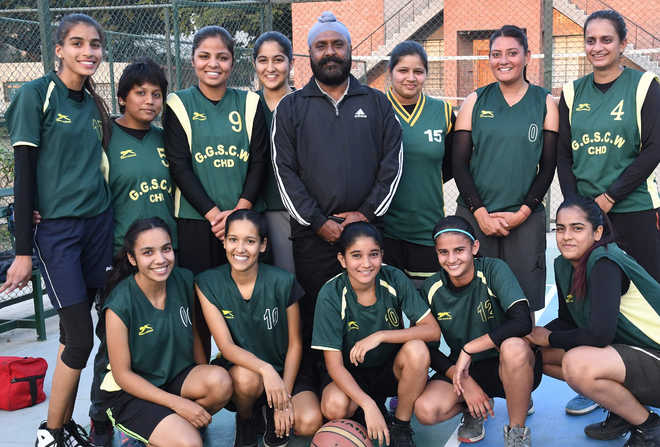 Deepankar Sharda
Tribune News Service
Chandigarh, November 26
Chandigarh Basketball Association debarred MCM DAV College Club, Sector 36 (I), team for fielding one of its players in two teams during the Senior State Basketball Championship at New Public School, Sector 18.
The club fielded two teams (I and II) in the championship and the organisers alleged that one of the player played in both the teams. MCM DAV College Club coach Vijay Kumar Rana alleged that the organisers are harassing the players and they have submitted no proof to support their claim either to the college or to the team's supporting staff, till date .
"They have no proof against us. I have not received any written communication from the organisers. The player in question was part of only one team. My team wore different kits in both their matches and they are circulating pictures without knowing the actual situation," he said. "The referees and other panellists were present at the spot and checked the proforma of each player before their respective matches. Then, how could one player play in two teams? Also, why the match was not stopped at that time," he asked.
The organisers claimed that the written statement along with the proof has been sent to the college. "The coach is unaware about his team players. One of the players played for two different teams, which is wrong as per rules. The match officials were caught unaware, but later, we acted on the complaint of one of the partcipating teams. The team has been been punished as per the rules and regulations of the national association. We cannnot do injustice to any team," said Jugraj Singh, vice-president Chandigarh Basketball Association.
SGGS, GGSW win title
Sri Guru Gobind Singh (SGGS) Club and Guru Gobind Singh College for Women (GGSCW) won the Senior State Basketball Championships for men and women, respectively. In the final of the men's category, SGGS Club defeated JCC 91-65. Ravi played an important role in the team's win by contributing 25 points, while Amit added 18 points to the winning tally. For JCC team, Sandeep and Allen contributed 16 points each to reduce the margin. Meanwhile, in the title clash of the women's category, GGSCW Club defeated Guru Nanak Public School Club 59-52.
Top Stories
Classes 5 & 8 students to be promoted