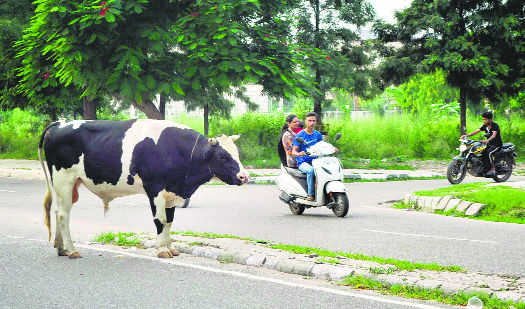 Ravneet Singh
Tribune News Service
Patiala, September 15
A victim of stray animal attack will now be compensated with a maximum of Rs 1 lakh as per the Punjab Municipal Registration, Proper Control of Stray Animals and Compensation to the Victim of Animal Attack bye-laws adopted by Municipal Corporation in a general body meeting on Friday.
While the maximum compensation will be given in case of death to the next of kin, those rendered disabled due to the attack will be compensated in proportion to the percentage of disability.
However, residents believe the amount is meager in relation to losses incurred victim.
"Paying a family merely Rs 1 lakh for death of a member is undermining the value of a man's life. Stray animals roam around freely due to the negligence of the local body. Keeping in mind lack of facilities in government hospitals, the disabled person will have to spend much more than the compensation amount for treatment and medicines at private hospitals, " said Archit of Dharampura Bazaar .
Recently, a family had filed a case against the Municipal Corporation demanding compensation of Rs 61.50 lakh. The family, in its petition, had stated that the only bread-winner of the family was killed by a stray animal attack on July 15.
Sukhjinder Singh, advocate for the family, said: "This is mere an eyewash. We will definitely file a public interest litigation against such a rule."
In case of stray dog attack, the victim will be paid a special compensation of Rs 1,000 per puncture and Rs 2,000 per hole by the urban local body.
Applicable to all urban local bodies in the state, the laws have been notified by the department since 2017.
Municipal Corporation Commissioner Gurpreet Singh Khaira said: "We have adopted the laws as notified and directed by the department. At present, we are yet to receive any objections in this regard."