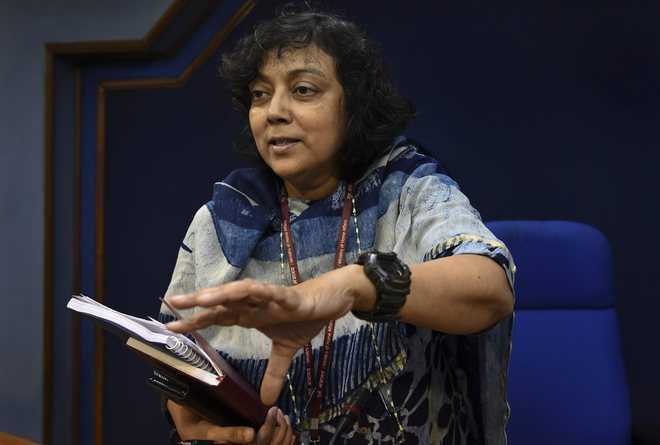 Naina Mishra
Tribune News Service
Chandigarh, November 12
After The Tribune highlighted that schools in the city are running coaching classes for medical and non-medical entrance exams from their premises in connivance with coaching institutes against the norms, the Central Board of Secondary Education (CBSE) chairperson, Anita Karwal, today said an inquiry would be initiated into the matter.
Talking to The Tribune, Karwal said, "We will surely get this matter looked into."
On August 6, the CBSE had issued a warning to all its affiliated schools against running of coaching institutes from the school premises. The board had observed that schools were running classes from their premises for providing coaching for entrance examinations against the stipulated norms.
"Running of such type of classes, with any nomenclature, for commercial purpose violates the basic spirit of the affiliation bylaws of the board," the board had stated in the circular.
Education Secretary BL Sharma and Chandigarh Commission for Protection of Child Rights chairperson Harjinder Kaur said action would be taken against schools running coaching classes with impunity.
The matter came to the fore when FIITJEE was directed by the District Consumer Disputes Redressal Forum to refund fee to a student, who left the classes over dissatisfaction with the teaching methodology at the institute.
Harsh Vardhan Sikka, a resident of Sector 38, had enrolled for their "pinnacle two-year school integrated programme" to prepare for the IIT-JEE. Vardhan attended coaching classes at Stepping Stones Senior Secondary School, Sector 37-D, and paid fee for three months. He deposited Rs 1,0,900 through a cheque and examination and tuition fee of Rs 86,163 in instalments.
After this, The Tribune carried a reality check on a Sector 34-based coaching Institute, Zetta, which claimed that it offered a similar integrated school programme at three schools in the city– New Public School, Sector 18; DC Montessori School, Mani Majra, and Ishwar Singh Dev Samaj School, Sector 21.
While DC Montessori School accepted that the school was running an integrated programme with Zetta, the other two schools refused to comment on the issue.
The programme entails clubbing of schooling and coaching for engineering and medical entrances. The classes are conducted within the school premises during the school hours. Both the institute and the school offer a discounted fee.
Top Stories