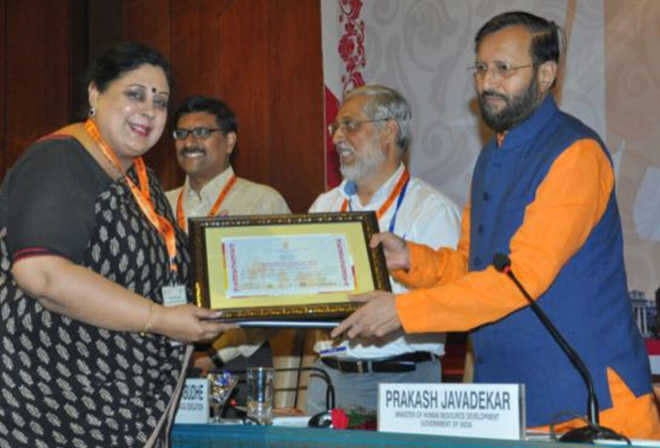 Tribune News Service
Chandigarh, September 14
The Post Graduate Government College for Girls (PGGCG), Sector 11, Chandigarh, has been ranked sixth in the Swachhta Rankings-2017 of higher educational institutions in the category of government institutions. Panjab University (PU) is placed at the seventh rank in the same category.
GB Pant University of Agriculture and Technology, Pantnagar, Uttarakhand, has topped the category.
The rankings were announced on Thursday and the top-ranking institutions were awarded. The Ministry of Human Resource Development had conducted the survey.
The Principal of the PGGCG-11, Dr Anita Kaushal, received the award in New Delhi.
Union HRD Minister Prakash Javadekar gave away the awards.
Kaushal said the college could have scored a higher rank but for the heavy rain on the day of inspection by a team of the Central Government.
From the PU, Prof Seema Kapoor went to receive the award.
The PU Registrar, Col GS Chadha (retd), said, "It is the outcome of work done over a year. We put up boards across the campus in Hindi, English and Punjabi on cleanliness. Our student-toilet ratio is good, the cleanliness in hostels is also good; the green cover also contributed to the ranking." He said in the past one year, the PU had carried out tree plantation, a no-plastic drive and installed separate dustbins for recyclable and organic waste.
Parameters
In the rankings, parameters for a clean campus were formulated such as the student-toilet ratio, kitchen hygiene, availability of running water, modernity of toilet and kitchen equipment, campus green cover, garbage disposal in hostels and academic buildings, disposal techniques, water supply systems and also whether the institutions adopted any neighbouring locality or village to spread awareness and activities in "swachhta".
The PU had adopted Khuda Lahora, Dhanas, Dadu Majra, Khuda Ali Sher and Sarangpur under the scheme.
About 3,500 higher education institutions responded to the online invitation, submitting their details as per the format.
The top 174 institutions were shortlisted as per the criteria and officials from the UGC and the AICTE inspected the premises of all 174 institutions. Finally, the top 25 institutions across various categories like universities, technical institutions, colleges and government institutions were selected and they were awarded on the occasion.
The exercise will help generate peer pressure among institutions in the all-important area of cleanliness, according to the MHRD.
Top News
Police release new footage; 'Waris Punjab De' chief spotted ...
The case was filed against Gandhi for his alleged 'how come ...
Can't keep defaming people, democracy and the country and ex...
Lawyer Abhishek Singhvi discusses legal strategy with Rahul ...
In 2017, top court declared practice of instant triple talaq...