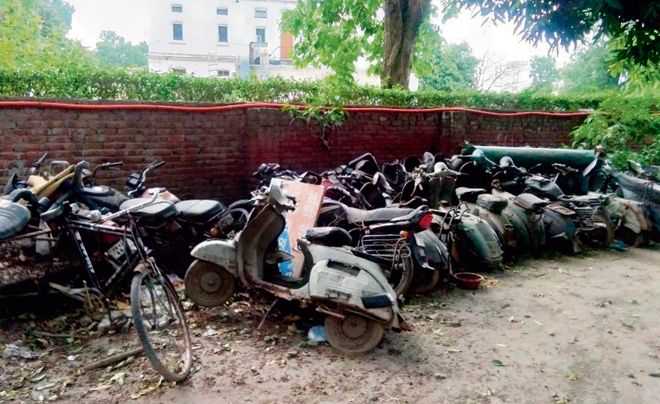 Karam Prakash
Tribune News Service
Patiala, June 12
At a time when the Health Department along with Municipal Corporation (MC) officials has been going door-to-door to make citizens aware through the "Friday Dry Day" campaign to clear their surroundings and stop stagnation of water, unclaimed and seized vehicles lying at various police stations in the city were turning into the mosquito-breeding grounds for aedes aegypti mosquitoes which spreads dengue.
Health experts said rainwater remains trapped under the bonnet, seats and in rims. Last year, dengue larvae was found even in a fuel tank of an abandoned scooter, informed the health official. The officials said they had found rainwater in rusting jeeps, cars, autos and motorcycles.
The health officials informed that the dengue larvae has been found at Ghagga police station and Anaj Mandi police station for which the notices
were issued.
It is pertinent to mention that the Health Department had sent a notice to the Senior Superintendent of Police (SSP) a month agao, asking him to ensure clearing of the area or covering the vehicles.
The health official said the SSP office has not replied to the notice to date. In 2018, Patiala was the worst dengue affected district in the state.
Dr Sumeet Singh, district epidemiologist said, "These vehicles are potential places for dengue breeding as water accumulates in them and go unnoticed. We have already advised the police officials to immediately clear the area or cover the vehicles."
SSP Mandeep Sidhu said, "All the vehicles will be cleared in a special drive by the police soon."