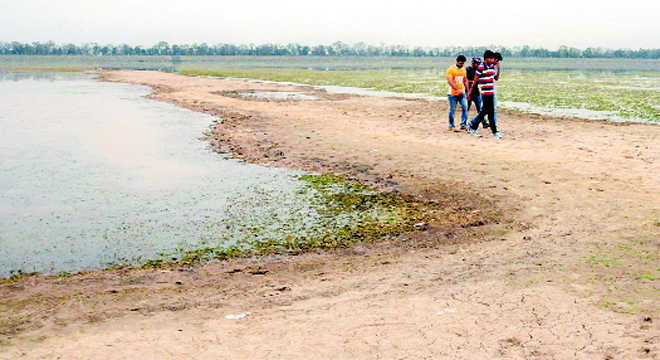 Chandigarh, May 22
The Punjab and Haryana High Court today rapped the authorities concerned in Chandigarh for the drying up of Sukhna Lake. The Bench categorically asserted the lake would not have dried up had the directions issued from time to time being meticulously followed.
As the case came up for resumed hearing, the Centre, too, blamed Chandigarh for not complying with its instructions as well. Taking a note of the assertion, the Bench observed that Chandigarh came under the Centre. Chandigarh's inability to comply with the instructions issued by the Centre reflected badly on both.
The Bench also verbally observed in the open court that a committee set up earlier for looking into the drying up of the lake, too, had not been successful in accomplishing the purpose it was set up for.
The Bench directed the constitution of a fresh committee with representatives from the UT, Punjab and Haryana Water, Forest and Environment departments. The Bench also directed cleaning up of the lake before the onset of the monsoon. The direction came after the Bench was told that a tender had been floated for removal of silt and the process was expected to begin by June 10.
The High Court had earlier asked the Union Ministry of Environment and Forests and the Union Ministry of Water Resources to look into the issue of the depleting water level of Sukhna Lake.
The Division Bench headed by Justice Ajay Kumar Mittal had also asked the Chandigarh Administration to ensure clean water channels for preventing restrictions in free flow. The rain-fed lake at the foothills of the Himalayas was created way back in 1958 by damming the Sukhna choe, a seasonal stream coming down the Shivalik Hills. The Bench had asked the senior standing counsel for the UT, Suvir Sehgal, to ask the authorities concerned to make sincere efforts, "so that at least 2 ft water level is increased in the lake…"
The Bench had also received from senior advocate Manmohan Lal Sarin and amicus curiae or the friend of the court Tanu Bedi a comprehensive report on the basis of suggestions received from people on saving the lake.
The High Court, in its order dated March 14, 2011, had also issued directions for restoring the lake to its former glory. — TNS
Top News
Railway Board has recommended for Central Bureau of Investig...
Amid 'pro-Khalistan sloganeering, the 39th anniversary of Op...
Focus on ways to expand bilateral defence and strategic ties
The incident took place when Binny had to load his SUV for t...