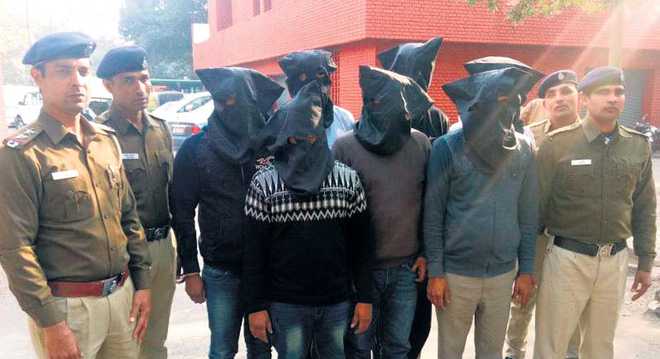 Tribune News Service
Chandigarh, January 21
Seven members of a gang, including a former banker and a former employee of a finance company, have been arrested by the crime branch of the Chandigarh Police for getting high-end mobile phones financed from private banks by preparing fake Aadhaar and PAN cards.
The two former employees were instrumental in providing documents of bank customers, which were used to get the mobile phones financed.
A team, led by Inspector Amanjot Singh, in-charge of the crime branch, said a case of cheating was registered at the Sector 17 police station following which four accused, Ashish Kumar, a resident of Sector 52, Vishal Sahgal, a resident of Kaithal, Haryana, Shakti Singh, a resident of Sector 25, Panchkula, and Sanjeev Kumar, a resident of Phase VI, Mohali, were arrested.
The police said four mobile phones were recovered from them which they had got financed on fake Aadhaar and PAN cards. The police claimed that the accused were held when they were going to sell the mobile phones at the Sector 22 mobile market at cheaper rates. All accused were sent on police remand.
The police said during the course of the investigation, three more accused, Amit Katyal, a former HDFC employee and resident of Una district in Himachal Pradesh, Kapil Dhingra, a resident of Lalru who had worked with Bajaj Finance Ltd, and Baldev Singh, a resident of Balongi, were arrested in the case. Fake documents used for procuring the loan were recovered from them.
3 accused have tainted past
Sanjeev Gupta, Baldev and Shakti Singh have a tainted past. Sanjeev Gupta was arrested earlier in a case of cheating registered at the Industrial Area police station. Shakti was arrested by the UT cyber cell in a cheating case and Baldev was arrested by the Mohali police in a snatching case.
Modus operandi
Inspector Amanjot Singh said Amit Katyal and Kapil Dhingra used to work in HDFC Bank and Bajaj Finance Ltd. Both of them used to steal data of bank customers and provide it to Baldev Kumar. "Baldev then used to use the names and address of the bank customers and prepare fake Aadhaar cards and PAN cards by changing the pictures of customers. On the basis of these fake papers, Sanjeev Gupta, Aashish and Shakti Singh got a large number of mobile phones financed from Bajaj Finance, HDFC Bank and Capital Finance. They sold the mobile phones at cheaper rates," Inspector Amanjot said.
The police said instalments of loans used to get deducted from the accounts of the customers whose documents were used to get the mobile phones financed.